QualityWorX Dashboard Datasheet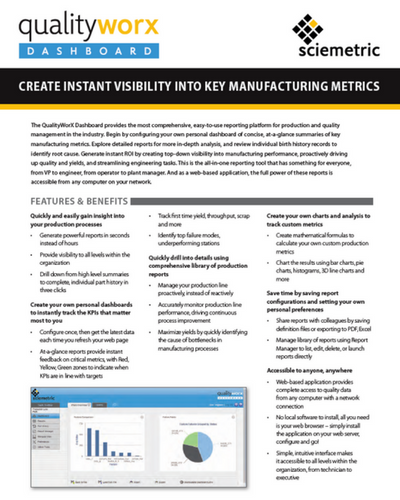 The QualityWorX Dashboard provides the most comprehensive, easy-to-use reporting platform for production and quality management in the industry. 
Begin by configuring your own personal dashboard of concise, at-a-glance summaries of key manufacturing metrics. Explore detailed reports for more in-depth analysis, and review individual birth history records to identify root cause. Generate instant ROI by creating top-down visibility into manufacturing performance, proactively driving up quality and yields, and streamlining engineering tasks.
This is the all-in-one reporting tool that has something for everyone, from VP to engineer, from operator to plant manager. And as a web-based application, the full power of these reports is accessible from any computer on your network.