With human health and well-being at stake, medical device manufacturers are under pressure to get new, high-margin products to market quickly while still addressing price erosion on mature products. Sciemetric's In-Process Test (IPT) and Data Intelligence solutions can help.
Real-time inspection of every part in every process. Collecting all the data and storing it in a centralized database. Making practical use of that information to solve problems quickly. That's our promise to customers in this challenging market.
Issues are caught as they occur—which means you can take immediate action and keep the line moving.
Learn how Sciemetric technology improves medical device manufacturing
---
Improve medical device quality—safely
Test every device
With Sciemetric's IPT solution, you test and record data for every part at every critical stage of manufacturing, so defects are less likely to slip through. Our Data Intelligence tools enable you to enhance the birth history record to include manufacturing quality compliance data for every device you build.
Speed up root cause and CAPA
By collecting digital process signatures from every process a device goes through in production, you have a complete picture of part and line health. That means you can pinpoint root cause and take Corrective And Preventive Action (CAPA) much faster. You can also replay and re-analyze millions of historical signatures to spot anomalies and identify problems.
Get high value medical products to market as quickly as possible
Quickly characterize the process during product development
Sciemetric technology helps development groups quickly understand the manufacturing processes so you can get new products to market faster. We'll show you how to identify and control process variation, prove that the automation processes are under control, and produce evidence that new equipment is operating the same as validated machines, all using reliable, traceable data.
Reduce validation time
We provide:
Documented 21 CFR Part 11 support on all products
Validation test plans specific to your needs
Comprehensive data and credible reports to support PMA and 510(k) submissions
Our technology gives the insight you need to prove your product is ready to be safely manufactured, with the data to back it up.
Reduce costs of medical manufacturing 
Eliminate destructive testing
Sample testing—common in the medical market—removes a percentage of parts from production and destroys them. When you switch to Sciemetric's IPT solution, you identify and remove only defective products. Traceability gives you a quality record for each device while reducing scrap.
Optimize resources
Manual inspection of critical-to-quality processes is costly and subjective. Automated strategies based on Sciemetric technology provide rich, objective data from manufacturing. You can redirect resources to other areas while improving quality.
Deal with quarantine efficiently
Our Data Intelligence software suite lets you analyze millions of historical digital process signatures from production processes to pinpoint problems at the lot or even serial number level. You'll get the reports you need to prove that you've identified root cause and controlled the issue, so you can resume manufacturing faster.
Optimize medical device production
Identify root cause across the enterprise
Quickly understand the causes of lower yield, right down to the process station, in hours instead of weeks or months. Compare yields by batch ID, suppliers, machine ID, materials or environmental factors. Our solution will give you a quick, high-level view of performance across the enterprise and the ability to drill down to address issues negatively impacting yield.
Control quality offshore in real time
Even if your operations cross oceans, you can deliver consistent quality with Sciemetric. Take advantage of our Industry 4.0-driven technology to actively monitor offshore manufacturing with dashboard views of yield and defects and drilldown quality reports. You'll have full traceability across all your global manufacturing centers.
Read this application note to learn about complete part traceability
---
Find defects others miss in tests and processes with In-Process Test (IPT)
sigPOD is a universal part test and process monitoring system that applies the industry's most advanced signature analysis to deliver the most accurate defect detection.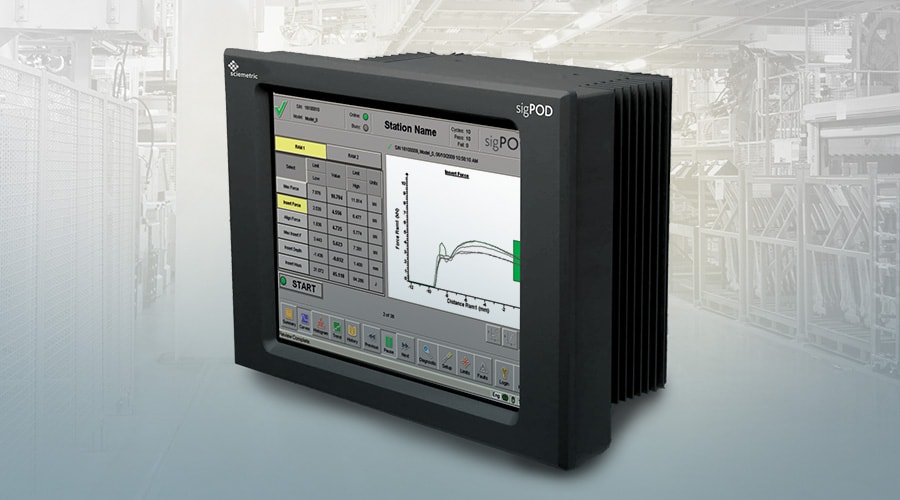 ---
Data collection and analysis produces better devices
Our QualityWorX suite of data management and manufacturing analytics software brings together all the processes and tests that went into building a part, providing immediate visibility into problem areas and enabling the correlation of downstream failures to upstream assembly operations.