April 10, 2018 – Ottawa, Canada – Sciemetric has been recognized with a Gold 2018 Innovators Award for its QualityWorx Vision software suite at the Fourth Annual Vision Systems Design Innovators Awards, presented during The Vision Show in Boston, MA.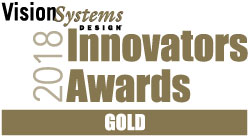 QualityWorX Vision provides manufacturers with a comprehensive data management platform for machine vision images and image data. This data, often used only for basic pass/fail determinations on the production line, can now be used in tandem with other datasets such as scalars and digital process signatures.
This comprehensive data collection and analysis helps the manufacturer to drive quality, increase first-time yields and empower smarter decision making. This optimizes a manufacturer's investments in machine vision inspection by unlocking machine vision's potential to help reduce scrap, rework rates and warranty claims.
QualityWorX Vision was judged by a panel of esteemed experts from system integrator and end-user companies.
The Vision Systems Design 2018 Innovators Awards program reviews and recognizes the most innovative products and services in the vision and image processing industry. Honorees for 2018 were announced today at The 2018 Vision Show, running April 10-12  in Boston, MA. Criteria used in the Innovators Awards ranking included originality, innovation; impact on designers, systems integrators and end-users; fulfilling a need in the market that hasn't been addressed, leveraging a novel technology, and increasing productivity.
The 2018 Visions Systems Design Innovators Awards Honorees will be featured in the June Issue of Vision Systems Design magazine. For the full list of honorees, click here.