Standard Test Pressure Ranges
Standard pressure transducer, valve manifolds, and regulator ranges:
-14.5, -2, -0.1 to 4" HG, 0.5, 2, 30, 100, 200, 400, 500, or electronic regulation (PSIG)
Optional low volume test manifold available
Optional high cV flow valves and manifold available up to 100 psig range allows 5X faster fill and exhaust to reduce cycle times on large parts
Optional low volume (0.07cc) manifold available
Absolute pressure transducer
Six point pressure calibration
Data resolution 0.00001 psi/ and scc/m.
Optional electronic regulator available with multi-point calibration
Mass Flow Sensor Ranges
CTS will optimize the flow sensor and flow range of your Sentinel I28 leak testing equipment to meet the needs of your unique application. Contact our application engineering team for available mass flow sensors.
Selectable Test Units of Measure
Units of measure can be instrument global or per test program
Pressure
PSIG
PSIV
inH2O
cmH2O
mmH2O
kg/cm2
ATM
inHg
cmHg
mmHg
kPa
Pa
MPa
Bar
mBar
Torr
Flow
sccm
sccs
scch
slpm
slps
slph
s
Tooling Control
Expanded control through EtherNet/IP™ communication
12 inputs and 12 outputs, with up to five (5) programmable tooling motions with feedback
Part marking control
Tooling I/O is externally connected
I/O 24 VDC: optional I/O cable "Cable,CTS, A12-610(standardx2)"
Test Data Storage
Up to 5000 LIFO part results including date, time, barcode, and test results
Selectable part serialization in the test data stream
SPC data tracking for part traceability
Expandable download through USB port
Electrical Requirements & Connectivity
88-264 VAC, 47-63 Hz, or optional 22-26 VDC
RS232(2)
Telnet(1)
Email alerts
Barcode ready (RS232)
Mobile text
USB mass storage device for backup, restore, and reports (FAT32, USB1.0,1.1,2.0)
¼" Colder fitting for test line attachment
---
Sentinel I28 Leak Testing Technologies
The Sentinel I28 leak detection system is configurable for a variety of pressure decay testing or mass flow testing requirements. It provides storage for up to 99 pre-programmed test sequences, and features a "Parent Program" that holds a customized test sequence for your multi-test application.
The test program can be selected via keypad, RS232, or binary. Test result evaluation is user-selectable (fail/pass/fail, etc.). The output format for test results can be configured to meet your needs.
Leak Test Options
Pressure decay/vacuum decay: pressure change
Pressure decay/vacuum decay: with certified mass flow leak standard
Pressure decay/vacuum decay: pressure change/time
Occlusion test (vacuum or pressure test)
Mass flow: direct flow reading (pressure test only)
Mass flow: continuous direct flow reading (pressure test only)
Mass flow: with certified mass flow leak standard (pressure test only)
Volumetric fill leak test: IPX6, IP67, sealed part leak test
Selectable Test Parameters
Quick test
Test pressure level compensation (selectable on/off)
Adjustable environmental drift correction per test program
---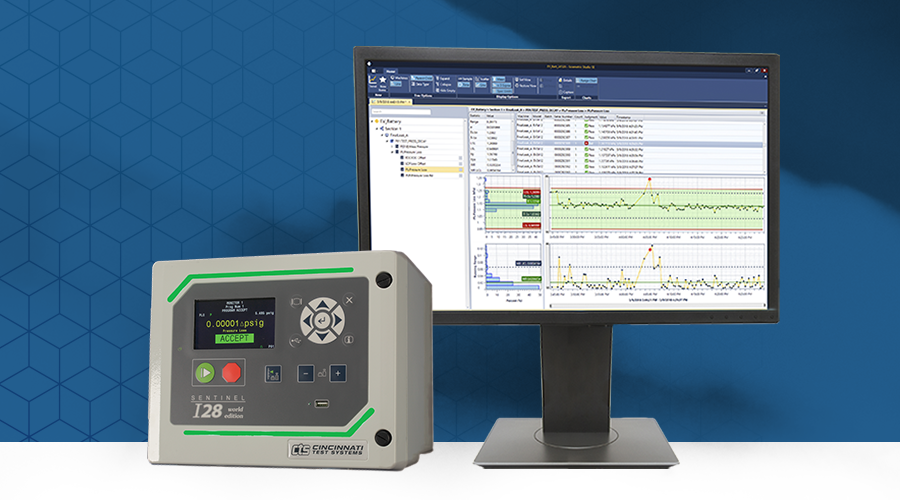 QualityWorX data management and analytics for the CTS Sentinel I28
CTS and Sciemetric have now made it possible to collect, store and analyze data from a selection of CTS instruments using QualityWorX.
Turnkey Package to Get Started
Customers can now connect several CTS Sentinel I28 instruments at a time using the QualityWorX CTS DataHub, a quick and easy turnkey platform for collecting and analyzing data, without requiring complex IT support or set up.
Scalable Database Options for Broader Data Collection
Want to collect data from more CTS instruments or to aggregate leak test information with data from  other tests? Scale up to a QualityWorX database solution to cover as many stations as you need. Learn more about QualityWorX.
Current QualityWorX customers can now add CTS Sentinel I28 data to their database!
Contact your sales representative to talk about connecting Sentinel I28 instruments to your QualityWorX database.