Industry 4.0 has manufacturers under pressure to increase production line output, profitability and efficiency. But they are often limited by:
The capacity of machinery
Downtime for repair and maintenance
Production defects that result in scrap or rework in the repair bay
Test stations that lag the pace of production and create bottlenecks
All these issues can be addressed by making better use of the reams of manufacturing data generated on the production line every day through key processes and tests.
This doesn't require a costly rip and replace. Sciemetric's vendor-agnostic manufacturing data management system and manufacturing analytics tools can be deployed quickly for a rapid return on investment. 
Check out our blog post, Overall Yield vs. First Time Yield: Which Offers the Greatest Return?
---
Reduce production defects with insight using real-time manufacturing analytics 
Sciemetric's tools and expertise provide the 100% real-time process manufacturing process control to verify every part at each critical quality step:
Defects are found and removed from production as they occur.
Downstream defects are quickly correlated to upstream processes to reduce downtime.
Root cause is traced quickly. Each part becomes a 'Batch of One' to limit the scope of a quarantine.
Sources of defects can be predicted before they occur.
The need for destructive testing is eliminated.
Precious seconds can be shaved from test cycles without compromising quality.
---
Increase manufacturing efficiency with Sciemetric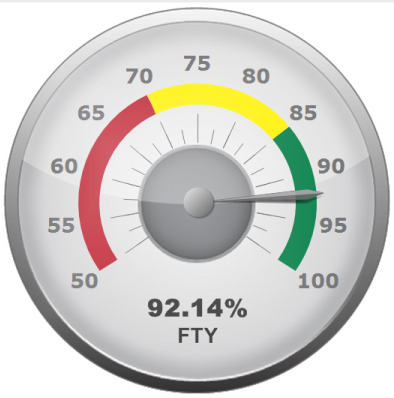 Sciemetric provides your team with the clarity and insight to overcome the barriers to increasing production output, whether it's related to unexpected downtime, poor FTY/FPY/FTT, or test stations that can't keep pace with production.
---
Case Studies
Leading automotive OEM increases engine production with manufacturing analytics
At one plant, the OEM experienced electronic throttle failures at the end of the line engine test, a time at which it is expensive to address.
By using Sciemetric's data management and manufacturing analytics tools, the OEM's team found the two reasons for the failures and fixed the upstream process issues to eliminate them. They were also able to run the criteria against quarantined parts to determine which ones exhibited the same factors.
The result? The 1.27% failure rate was reduced to 0.07%. This may sound small but it resulted in an additional yield of 170 engines a month, which added up to significant cost savings.
Higher throughput, better quality, at a lower cost

When a manufacturer's line had to gear up to take on the production of another plant, Sciemetric enabled them to meet the challenge. The 4x faster cycle time of the 3520 Series Leak Tester solution reduced the number of required leak test stations by half, allowing them to incorporate the test into the line.