The rise of the Industrial Internet of Things (IIoT) and Industry 4.0 has heightened expectations for traceability in manufacturing. 
Sciemetric's manufacturing traceability solutions give you insight into each manufactured component and its full history across each assembly operation. We provide the tools to enable review and analysis of this data by time span, shift or part population, with drill down to individual serial numbers in only a few clicks.
Only Sciemetric provides a traceability software package that can store and reanalyze digital process signatures (waveforms), vision camera images and scalar data.
Having a complete digital trail of manufacturing processes for each part empowers manufactures to: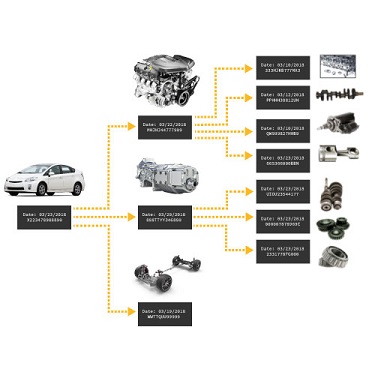 Provide objective proof that a product was made to spec
Identify the specific problem on your line in a recall situation and pinpoint the affected parts
Continuously monitor and improve your tests and processes to avoid the issues that cause recalls in the first place 
Compare performance of duplicate lines
Maintain regulatory record-keeping to comply with corporate requirements
Learn more, below.
---
Full part traceability solution for the manufacturing line
Ensure quality with a complete birth history record, including data from every critical station on the production line
Sciemetric provides a full traceability solution that enables you to be able to prove your manufactured parts meet the required standards, and quickly identify and fix the cause of any quality problems that do arise. We do this by collecting data from the part's journey at critical stages of the manufacturing process, and bring it together in one centralized, accessible location providing a complete birth history record for each manufactured part.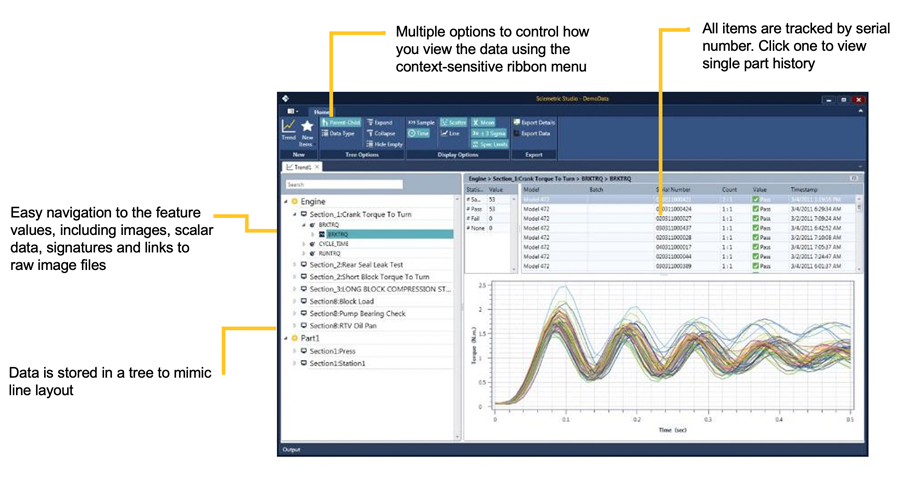 1. Collect 
Collect process data during assembly processes from test systems and stations on the production line via robust industrial software connections. 
Pass/fail status
Scalar feature values and specification limits
User-defined, part-specific parameters
Defect & repair data
Line configuration
2. Store
Data is stored in the centralized QualityWorX database, for easy accessibility and retrieval. 
Full digital process signatures, scalar data and images from machine vision cameras can be stored.
The part process data is organized to mimic the setup and stations on your production line and stored by serial number.
3. Report, Analyze & Improve
View the data in real-time on demand as needed using QualityWorX data analytics tools, including the QualityWorX Dashboard for immediate insights and Sciemetric Studio for deeper analysis. Using these tools, you can quickly dive in to view process data for a specific part manufactured on your line—within 3 clicks! 
Provide a range of reports on individual or populations of parts.
Use the historical data to trend and compare your manufacturing processes to identify problem areas and fix them for better continued manufacturing.  
---
Enable complete traceability and reliable quality assurance with Sciemetric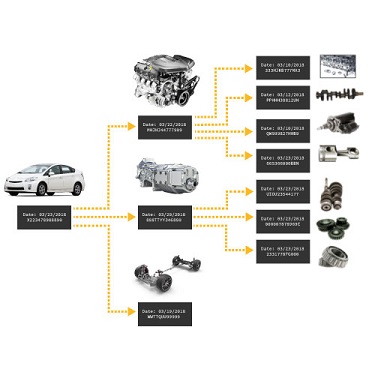 Sciemetric has decades of experience working with manufacturers across numerous industries, including automotive, off-highway, and medical, applying our technologies to their production lines to improve traceability. 
Sciemetric solutions are modular and flexible and can be implemented on your line where you need it—without the need for rip-and-replace. Start collecting the data that matters and have access to meaningful reporting in minutes. 
Contact us to learn how Sciemetric solutions could be integrated to enable full part traceability in your plant.