Pressing or joining is one of the most common manufacturing operations. Press-fit, also called interference fit, is an automated pressing process that involves using force to fasten two parts. Various industries use press-fit or interference fit in manufacturing, including automotive, off-highway, medical, appliances, and electronics.
Leaks, unwanted noise and other defects found downstream on production lines are often due to missed issues during the press-fit process. These issues result in time consuming and costly scrapping and reworking that slows down your production line.
Utilizing the right type of press force monitoring is critical in detecting joining defects early in the process, before they cause larger and costlier issues. Sciemetric applies advanced digital process signature technology to monitor every step of the press force operation to catch defects accurately and reliably, as they occur.
In this video, Sciemetric's CTO, Richard Brine, demonstrates the Sciemetric EDGE solution for press-fit applications on the production line. Learn how the Sciemetric solution gives you a close-up look at your application using powerful data acquisition technology and waveform analytics to pinpoint the specific problems in your process.
CONTACT US TO DISCUSS YOUR PRESS APPLICATION
---
Add intelligence to your press-fit operations 
Sciemetric's systems for press-fit monitoring use unique digital process signature analysis software to capture, analyze, and store thousands of data points from each pressing operation to deliver the most accurate real-time press-fit defect detection.
Our systems can be deployed with any hydraulic, servo electric, pneumatic (air over oil), and mechanical presses. The waveform analysis software provides real-time force distance monitoring results, giving you valuable insight into the quality of manufactured assemblies and components.
Finds part issues
Incorrect orientation
Cracked
Over-size
Under-size
Improper insertion
Tolerance stack-up
Identifies process or machine issues
Bad alignment
Improper lubrication
Wrong ram speed
Loose fixtures
Damaged seals
Low hydraulic pressure
---
Flexible press monitoring solutions to fit your needs
Sciemetric offers two solutions for monitoring and analysis for press operations: sigPOD and Sciemetric EDGE. Each solution applies the power and insight of Sciemetric digital process signature technology, combined with the hardware to suit your needs on the line. See below for more information on which solution is right for you.
sigPOD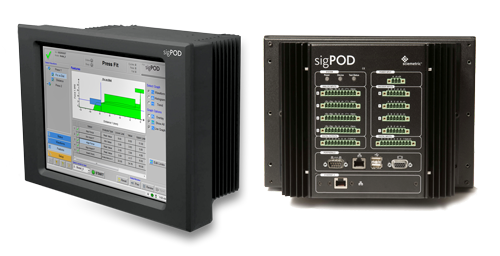 The sigPOD is powerful process monitoring platform that offers an in-station display to be able to easily view and analyze your basic test data using PSV right at the station. 
The sigPOD is preferred if your application requires several channels of synchronous data collection and all of your monitored pressing rams operating in a consistent, simultaneous manner.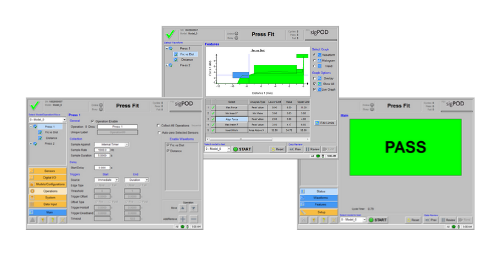 Sciemetric EDGE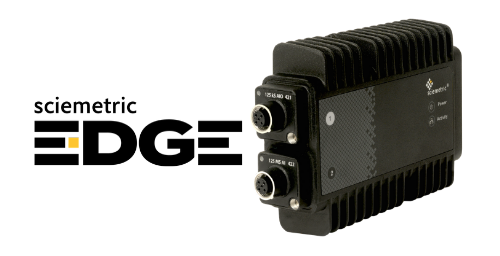 The Sciemetric EDGE is an innovative platform for process monitoring and control. It offers compact, modular design and remote access control.
The Sciemetric EDGE is preferred if you have a multi-ram asynchronous station, where any ram could be operating at any time. The Sciemetric EDGE can be applied on a per ram basis, close to the operation for seamless integration with your system.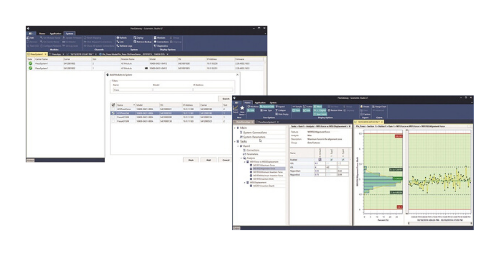 ---
Digital signatures provide greater accuracy in press force monitoring
Sciemetric force distance monitoring technology is based on digital process signatures, or waveform analysis, which analyzes all the critical points of an operation to determine a pass/fail decision. Signature analysis provides a visual representation of the process.
The force distance waveform is a combination of force vs. time and distance vs. time measurements.

The combined press signature provides a visual overview of the key measurement parameters.

Variations in the repeatable curve are indications of problems. Only Sciemetric enables the reprocessing and overlay of signatures to determine the root cause of issues. For example, looking at a population of signatures, the chatter seen can be attributed to spikes in force caused by the rocking of the pin being inserted during the operation.

More on digital process signatures
---
Real-world applications for press-fit defect detection
Sciemetric's pressing process defect detection provides reliable monitoring in various press test applications, including:
Brake Pad Press
Crimp Nut Press
Power Steering Pump Press
Assembly Press
Valve Seat Press
Oil Plug Press
Cup Plug Press

EGR Assembly Press
Turbo Pipe Press
Snap Ring Press
Tube Press
Bearing Press
Fuel Tank Valve Press Application
---
Learn more about how our process monitoring and in-process test capabilities have been used to:
Create a new integrity test system that included press-fit monitoring for a reputable brake pad manufacturer
Replace subjective method of testing rubber-to-metal bond on a part
Provide precise control and monitoring of power steering pump press-fit assembly for an automotive parts manufacturer
View more press-fit application notes
---
Smart manufacturing: Lever the data from press-fit operations