At Sciemetric, we know engines inside and out. It's where we started in manufacturing in the early 1990s when we pioneered signature analysis for in-process defect detection, creating the industry's first engine cold test application for a V8/V10 engine line. Today our systems ensure the quality of millions of engines every year, around the world.
Continuous improvement is difficult with traditional methods of monitoring engine quality. This is due to reliance on end-of-line testing, weak reporting, the lack of data and the inability to analyze it quickly and efficiently.
Sciemetric's process monitoring, and data management and analysis tools enable real-time insights into product quality. Having the right information available when you need it means you can make faster, data-driven decisions when issues arise and allows you to make continuous improvements to your line. We help you deliver high quality engines, while also increasing first-time yield and reducing costs.
Monitor every process on the engine manufacturing line
As opposed to solely testing engines at the end of the line, our approach is to monitor each crucial process in the manufacturing of your engines, down to each serialized component. This enables you to identify defects early in the assembly process, rather than downstream when the costs to address them are more significant—or worse, after they've left the factory and you're faced with a recall.
Sciemetric delivers process monitoring of every integral in-process test on your engine manufacturing line with our sigPOD. The sigPOD delivers the real-time pass-fail feedback and the advanced defect detection capabilities to catch quality issues fast using advanced signature analysis and process signature verification. 
Using the sigPOD, we can monitor virtually any manufacturing process on the engine manufacturing line, including:
Short block verification
Oil cavity and coolant cavity leak test
---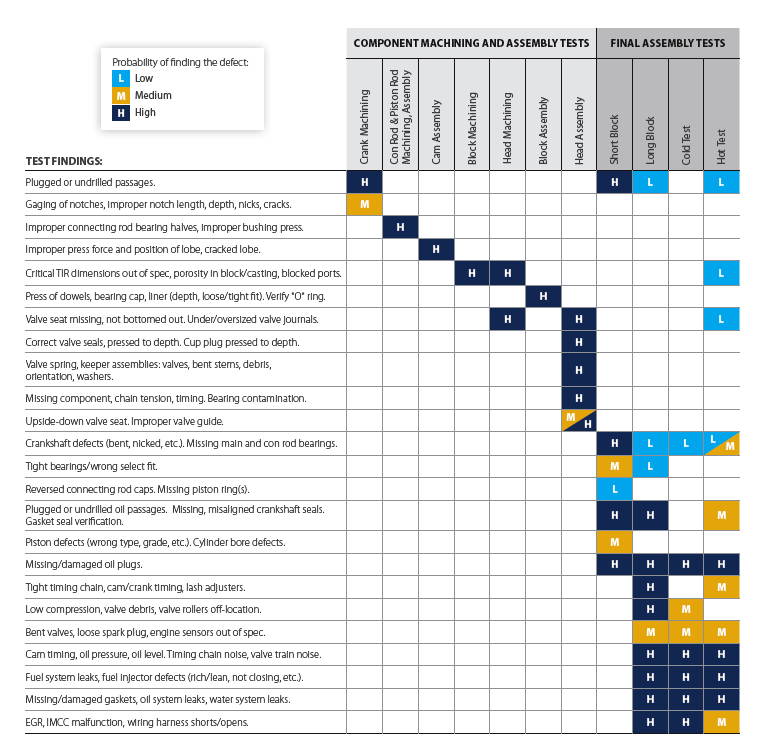 Explore the possibilities with
in-process testing
Engine manufacturing line
Many defects are best found in-process and not at the end of the assembly line. To help illustrate these possibilities on your line, we've developed a list which identifies the areas on the engine manufacturing line where in-process testing can be done and the probability of identifying specific quality issues at each respective station.
Download the list of in-process tests
for the engine manufacturing line
---
Data intelligence on the production line
Sciemetric's QualityWorX data intelligence software provides data collection and analysis across every production line in your enterprise. These tools enable complete traceability throughout the automotive component manufacturing process, and the tools to create reports that show that each specific component within a part meets the required specifications.
In the event of a product quality concern, like a warranty claim or recall, these data management and analysis tools give you the ability to revisit your process data for a specific component and trace root cause enterprise-wide. Quickly identify what that problem was, which other specific components were affected (by part number), and how to prevent it in the future.
---
Access complete birth history record for engine components and assemblies
Automotive engine manufacturers are increasingly expected to have a traceability system for manufacturing in place. In order to their specifications and compliance standards.  
At the heart of every QualityWorX installation is a fast, efficient database. QualityWorX maintains a complete, detailed birth history record, for every serial number, including:
Full process signatures
Pass/fail status
Scalar feature values and specification limits
User-defined, part-specific parameters
Defect and repair data
Line configuration
---
Problems on your engine manufacturing line?
Sciemetric has a solution
In automotive manufacturing, the goals are clear: consistently deliver a quality product and do it as efficiently and cost-effectively as possible. 

Though everyone promises to support these goals, Sciemetric's technology was designed specifically to fill a common gap in automotive plants—the lack of actionable information. Sciemetric provides visibility into the assembly processes not just to identify a problem, but to determine precisely what's causing it, before it impacts your KPIs.
We have decades of experience walking production lines across the globe, helping manufacturers solve their most difficult problems on the line. Let us help you.
Improve product quality
With in-process testing and data collection and analysis tools, Sciemetric provides complete insight into every step of your manufacturing process. This enables your team to improve product quality and then consistently apply and maintain this quality standard across every production line in your enterprise, worldwide.
Increase first time yield
When looking at your engine line efficiency, yield numbers don't necessarily tell you the whole story. Many engine manufacturers will prefer to look at their first time yield (FTY), otherwise known as first time through (FTT) or first pass yield (FPY), to get a more accurate view of their production ROI.
Sciemetric knows how important it is to maintain good ROI on the production line and we have helped some of the world's leading automotive engine manufacturers increase first time yield. Learn how manufacturers are saving money by improving their yield.
Manage recalls
In the event of a recall, the ability to react quickly is crucial. Whether the problem is found at the plant, in vehicle assembly or by a customer, the faster you can deal with it, the less it will cost you.
Using Sciemetric technology one of our customers was able to reduce a recall from 10,000 cars down to 7 units. Within mere hours, the issue was identified and the manufacturing processes we adjusted to ensure the same issue would not happen again. The car maker was able to save millions in costs and other negative effects a wider recall would have caused.
In quarantine situations where production is on hold, automotive manufacturers using our technology are able to access their process data and trace root cause of the manufacturing problem across the entire enterprise, identify the specific units affected, fix the process and get the line rolling again quickly.
Reduce costs
It is possible to reduce costs on a manufacturing line without affecting the quality or yield of the plant. Actually, it is possible to reduce costs while improving quality and yield. From personnel costs to materials, Sciemetric technology has helped automotive manufacturers attain real cost reductions in manufacturing.
We have helped our customers:
Reduce scrap and repair costs by eliminating problems early
Reduce warranty and recall costs with better insight into production problems
Accelerate runoff with quicker launch of new production lines
Reduce operator training costs through the use of a standardized, common platform across the enterprise
And more
---
Consultation & Support Services
At Sciemetric, our relationship with our customers doesn't end when the product ships. We are dedicated to making sure our customers are comfortable using their new equipment and software and are seeing results on the line.
With decades of expertise in data management and analytics, leak test, in-process test and more, our global team of application, integration, installation and support specialists will walk your line and provide unique options to help you optimize your process and meet your goals.