Measuring the appropriate dispensing of sealants, coatings, and adhesives in manufacturing assembly can be a challenge. Typical problems are air bubbles resulting in voids, incorrect tip size, wrong media or partial hardening due to issues such as incorrect pressure, exposure, clogged nozzles, or tooling alignment. When these defects go undetected, it can cause issues such as leaks, non-secure parts, and unwanted noise and vibration. Our process monitoring solutions and defect detection systems monitor the process to identify low pressure, high pressure and dispense time issues as they occur.
CONTACT US TO DISCUSS YOUR DISPENSE MONITORING SYSTEM
---
Catch defects and gain more insight into your adhesive bead and sealant bead inspection systems with process monitoring and data analytics
Sciemetric's process monitoring and data analytics systems have been used to monitor various dispense applications such as silicone beads and drops, anaerobic beads or drops, rotospray systems and the application of oil, grease and other manufacturing fluids.
Our systems use digital process signature technology to visualize dispense operations in-station and in real time, allowing you to identify production issues at the source, such as:
Air bubbles
Clogged nozzles
Missed or incomplete purge following nozzle replacement
Oversized nozzle/wrong tip
Pressure deviations
Improper dispense time
Debris or semi-cured material
Optionally monitor upstream dispense components such as pail pump or auger pump, which can ultimately affect the overall dispense process
Analyze virtually any adhesive, sealant, or fluid dispense application in real time
Digital process data visualization identifies quality issues in any lubricant, adhesive, or sealant dispense application, whether it's automotive gaskets, electronics, medical devices, consumer products, or any other manufactured product. Use our fluid dispense monitoring system on any of the following dispense processes:
Silicone Bead Dispensing
Silicone Drop Dispensing
Silicone Sealant Dispensing 
Industrial Sealant Dispensing
Anaerobic Bead Dispensing
Anaerobic Drop Dispensing
2-Part Epoxy Dispensing
Bead Inspection
Rotospray Systems
Oil/Grease or Other Fluid Monitoring
And more
---
Case Study: Solving quality issues with Loctite® adhesive dispensing
After numerous leaks and the threat of warranty claims, a manufacturer needed an accurate monitoring solution to catch bubbles causing the leaks at their Loctite® adhesive dispense station before the parts moved further down the line. They turned to Sciemetric's sigPOD, which allowed them to detect a variety of issues causing dispense defects as they happen, improving product quality, and drastically decreasing scrap and rework costs, and line downtime.
---
Identifying bubbles during dispense applications using your production data
Vision systems can't see air trapped within opaque sealants and adhesives, and this results in chronic quality issues on a production line. Our integrated industrial monitoring platforms monitor dispensing applications with a high level of precision to identify faulty applications before they reach the end of the line. Learn more in this blog post.
---
 Automate inspection of adhesive and sealant dispensing operations
Sciemetric's digital process signatures are created from the hundreds of data points used to measure the success of a process. Instead of just getting a snapshot, you can visualize continuous data through the entire process of your automated dispense operation. This method of dispense monitoring makes it easier to identify issues. Waveforms collected during adhesive or sealant dispensing analysis include bead location and width by region, and histogram and time-based min/max/avg in a region.
Sciemetric offers two solutions for adhesive bead monitoring and sealant quality inspection:
sigPOD
The sigPOD is powerful process monitoring platform that offers an in-station display to be able to easily view and analyze your basic test data  right at the station.
A pre-configured template for dispense monitoring is available at no cost!
Sciemetric EDGE
Sciemetric EDGE is an innovative platform for process control and monitoring. Its compact, modular design allows it to be easily integrated onto your automated dispense line and offers remote access control.
Powered by Sciemetric Studio software on any PC, it enables management of devices and advanced data analytics for easier test setup and ongoing analysis.
---
Improve bead inspection by combining machine vision images and data analysis capabilities  
Machine vision is commonly used for monitoring dispense operations such as bead width, location, etc. The issue is that these cameras only tell part of the story. QualityWorX Vision allows you to derive data from the images taken by your machine vision system and turn them into useful analyzable data.

Using machine vision software for monitoring and analysis gives you the ability to:
Integrate scalar data and images, including image overlay information, from multiple cameras, traceable to a part serial number
Capture images and data for systems with limited or no storage capability at the camera level
Avoid the need to run down to the plant floor with USB sticks to move images from plant floor system to your system for re-analyzing
Use manufacturing analytics to enable fast retrieval, review and analysis of image and scalar data
Scale from single station to all cameras to all inspection systems on the plant floor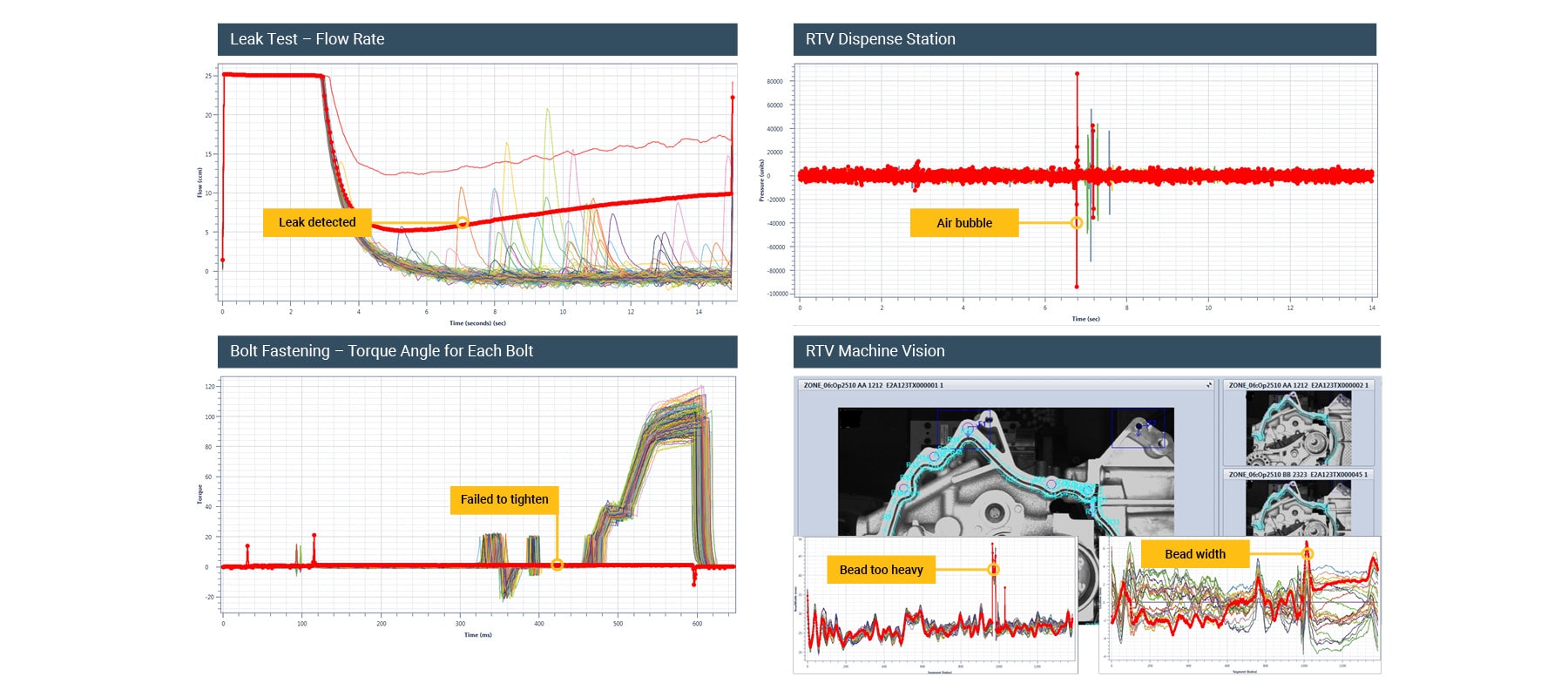 Quickly find the source of process failures and respond to failure trends. For the same part you can see leak test results, fastening data, dispense data, the RTV image and the bead information.
Read about our solutions for Cognex bead inspection below: 
Read the datasheet:
QualityWorX for Cognex® In-Sight® cameras