Catch fluid dispense production issues in real time
Measuring the appropriate dispensing of sealants, coatings and adhesives can be a challenge. Typical problems are bubbles, air voids, or partial hardening due to issues such as incorrect pressure, clogged nozzles or tooling alignment. Often defects due to dispensing are not detected until much later in the assembly process.
Using a sigPOD, you can monitor the pressure of the dispensing process to ensure that it meets the accepted parameters. Find low pressure, high pressure and dispense time issues as they occur, not at the end of the line when you face higher repair and scrap costs. Sciemetric's signature analysis systems have been used for media such as silicone beads and drops, anaerobic beads or drops, rotospray systems and to monitor oil, grease and other fluids.
---
Article: Spot bubbles in dispense applications with manufacturing process data
Vision systems can't see air trapped within gasketing material, so an automotive powertrain supplier turned to Sciemetric to find a new way to spot bubbles before they compromised seals. Read this article by Sciemetric's Aaron Alberts.
---
Visualize the dispensing process with digital process signature technology
Digital process signatures are created from the hundreds of data points used to measure the success of a process. They also provide a method to visualize the data from the operation to make it easier to drill down into issues. For fluid dispense operations, waveforms or traces collected include:
Bead location by region
Bead width by region
Histogram and time-based min/max/avg in a region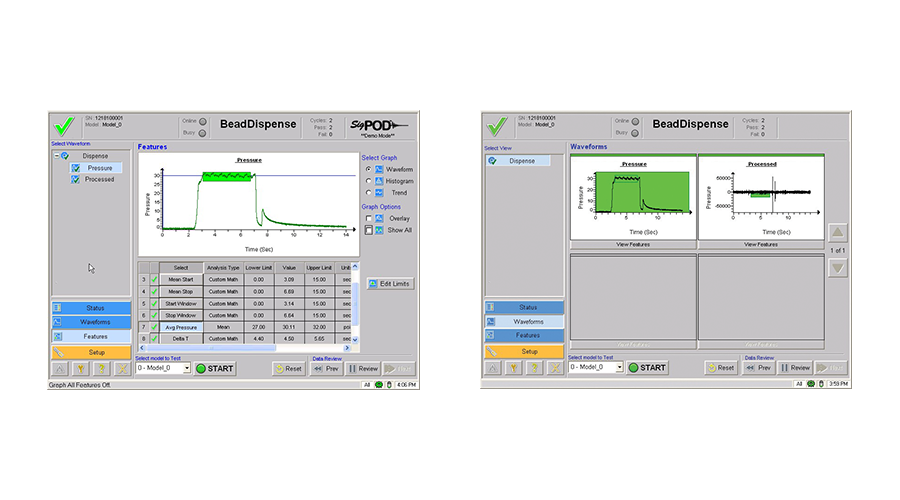 ---
Case Study: Graco Inc.'s Cutting-Edge Dispense Analysis System for Drivetrain Gasketing
Graco Inc. teamed up with Sciemetric Instruments, ULC to create the Graco® Dispense Analyzer for use on its Precision Continuous Flow (PCF) metering and dispense system for drivetrain gasketing applications. The Graco Dispense Analyzer is capable of detecting microbubbles within fluid sealants and of tracking and recording dispense information. The Analyzer can be installed on many new or existing applications. The technology proves especially useful for verification of gasketing applications. Learn more about this turnkey dispense solution that detects microbubbles, improves error detection, response time and part quality.
---
Using machine vision to monitor dispensing? Get data!
Machine vision is commonly used for monitoring dispense operations, to measure bead width, location, etc. With QualityWorX Vision, machine vision images and data from dispense operations can be consolidated with all the rest of your production data.

QualityWorX Vision gives you the ability to:
Integrate scalar data and images, including image overlay information, from multiple cameras, traceable to a part serial number
Capture images and data for systems with limited or no storage capability at the camera level
Avoid the need to run down to the plant floor with USB sticks to move images from plant floor system to your system for re-analyzing
Use manufacturing analytics to enable fast retrieval, review and analysis of image and scalar data
Scale from single station to all cameras to all inspection systems on the plant floor
Read the datasheet:
QualityWorX for Cognex® In-Sight® cameras
Example: View all camera inspection data for a sealed joint
Quickly find the source of process failures and respond to failure trends. For the same part you can see leak test results, fastening data, dispense data, the RTV image and the bead information.