NVH Testing and Analysis Solutions for Motorized Assembly Manufacturing
One of the leading issues affecting customer satisfaction for motorized assemblies is unwanted noise or vibration. Some manufacturers rely on subjective testing of their products, having workers listen to or feel for anomalies. Others struggle to move it from the lab into the manufacturing environment. Sciemetric's approach to sound and vibration analysis brings noise, vibration and harshness testing (NVH) onto the production line and enables the application of a more reliable, data-driven measurement to catch those hard to find clicks, whirs or buzzes. Our in-process test and monitoring solutions automate NVH testing, reducing the reliance on personnel while providing full traceability.
Contact us about your application
---
---
Sciemetric cuts the cost, boosts the traceability of NVH testing
Sciemetric's sigPOD in-station process monitoring and data collection platform relies on digital process signature analysis to reliably evaluate the quality of an assembly. Though a microphone can be used, with an ICP-based accelerometer the sigPOD will provides accurate analysis even under noisy conditions. From verifying rotating machinery and motorized assemblies for unwanted noise and vibration to resonance testing, our approach to NVH noise, vibration and harshness testing can identify root causes such as:
Loose, rubbing, or missing components
Valve noise
Surface defects
Misalignments
Cracks
Gear noise and defects
sigPOD reduces the costs of NVH testing, while also making it data-driven, repeatable, and traceable.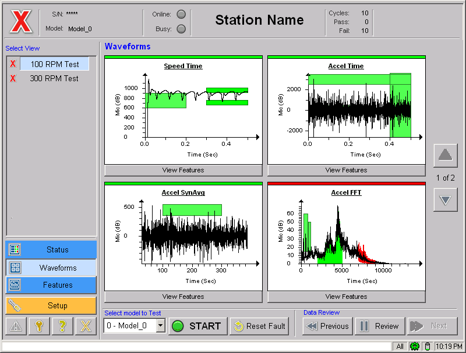 Advanced insight into NVH testing with digital process signature technology  
The key to the sigPOD's advanced measurement is the application of digital process signature technology. A range of signatures are used to derive a pass/fail decision in production line sound and vibration testing: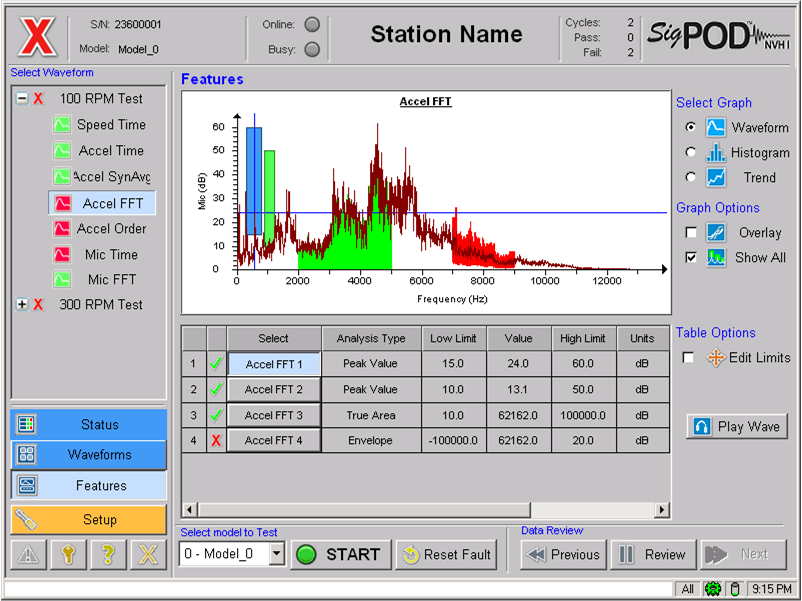 Vibration (using an accelerometer)
Sound (with a microphone)
Electric current
Time domain, FFT
Synchronous math, statistics
All signature data is stored by serial number
Contact us about your application 
---
Sound and vibration in manufacturing: Application stories
Noise and vibration testing are used across various industries to identify product defects and maintain consistent product quality. Examples of common testing applications include:
Automotive/Off-Highway: Noise vibration and harshness automotive testing is used in assemblies such as motors, engines, transmissions, axles, HVAC assemblies, windows, sunroofs, seat tracks, gear quality, brake pads
Small Appliances: Kitchen stand mixers, food processors, garbage disposals
Large Appliances: Washers, dryers, dishwashers, air conditioners
Finding noise and vibration defects on a noisy factory floor
Noisy actuators were causing issues for a manufacturer of automotive seat tracks. The preference was to have the test done in-line, but the background noise of the factory made the use of a microphone a challenge. It seemed the only option was a quiet room or anechoic chamber. Read the application story to see how the sigPOD was deployed in production to find the noise-related defects.
Read more sound and vibration application notes
Learn more about how data-driven NVH testing with sigPOD has been used to:
Contact us about your application 
---
Noise Vibration and Harshness (NVH) analysis: take production test data one step further with Manufacturing Analytics
With Sciemetric's manufacturing analytics software and data management suite, you can save the data from your tests and use it for traceability and continuous improvement.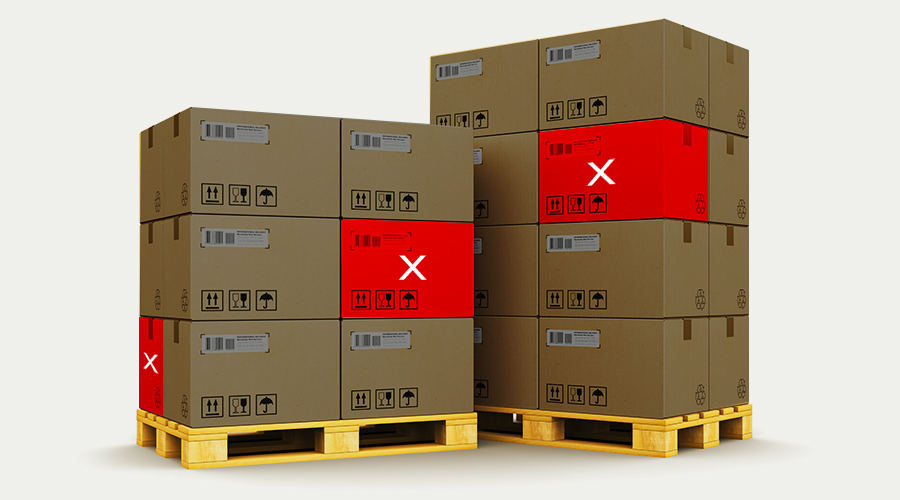 We enable faster issue resolution and the visibility today's manufacturers require to:
Identify the root cause of defects or issues affecting throughput
Fix tests and processes for defect avoidance
Very quickly pinpoint affected parts to avoid a mass recall or stop ship
Continuously optimize stations by using the data to set limits, cycle times, etc.
Demonstrate conformance for each part
Aggregate data from across stations to eliminate data silos