Reliably and repeatably find process issues as they happen during part assembly to reduce costs and wasted cycles. Sciemetric's in-process test and monitoring systems use digital signature technology to measure and analyze the entire waveform of a process for a more accurate pass/fail decision. Flexible for use across the production line, our solutions offer additional features to optimize limit setting, view and analyze data and more.
 FLEXIBLE SOLUTIONS FOR VIRTUALLY ANY PROCESS
Improve virtually any industrial process with Sciemetric EDGE
Sciemetric EDGE is a universal industrial analytics platform to help you perfect almost any process in record time. This modular, distributed data analytics system removes barriers to collecting data, driving productivity improvements and cost savings. Whether your goals are improved product quality, greater process reliability, increased efficiency, or enhanced test repeatability, Sciemetric EDGE can help you achieve them.
Boost the intelligence of your entire line with sigPOD process monitoring equipment
sigPOD is one of Sciemetric's out-of-the-box solutions for monitoring test and assembly processes that standardizes part test and process monitoring onto a single platform for manufacturers. Our in-station process monitoring tool uses advanced signature analysis to deliver real-time pass/fail feedback along with advanced defect detection. It has a compact, robust design and is expandable to accommodate up to an additional 16 analog channels or 64 encoder channels.
With sigPOD, process signature verification can be deployed across the production line on virtually any manufacturing process. Gain the data-driven insight you need to compete in an Industry 4.0 world.
Real-time production monitoring systems find defects at their source
Many discrete manufacturers continue to rely on process monitoring systems that don't collect and analyze the data to catch defects as they occur. If defects are flagged further down the line, it can take days or weeks to trace and address root cause. Faulty units can end up in the field, resulting in unsatisfied customers and costly recalls.
Sciemetric's intelligent process monitoring systems empower your team to take a more effective approach to ensuring quality. Our real-time production monitoring systems are compatible with standard production line tests including: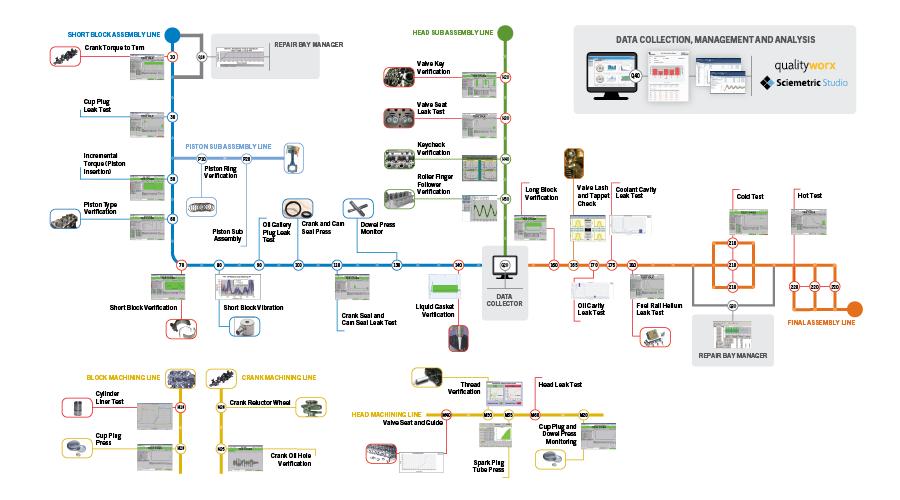 By providing real-time manufacturing process monitoring and analysis, our systems identify and reject defective parts on the line before they can advance to the next step. Best of all, our systems are universal and agnostic. Equipping your line with this capability doesn't require a costly rip and replace. Having a single-source process monitoring system also makes it easier to train personnel and collect and manage data.
Talk to us about your process test or monitoring application today
---
Manufacturing analytics bring the production line to your desktop
Developments in the area of Industry 4.0, including automation and data exchange, have reshaped manufacturing and helped companies increase production while improving product quality and reducing overhead costs. Without an effective in-process monitoring system, however, manufacturers can't take full advantage of the actionable insights offered by this expanded data and analytics capacity.
Learn more about Sciemetric's manufacturing analytics platforms to visualize and analyze sigPOD data for continuous improvement across your organization:
Harness the power of your production data at a strategic level with QualityWorX
Optimize production with the simple manufacturing analytics of Sciemetric Studio
Sciemetric's real-time industrial manufacturing process monitoring software solutions give you the insight you need to improve processes and ensure product quality. Our process monitoring tools utilize cutting-edge data management and analytics technology and integrate easily into your manufacturing stations. The systems are delivered in a complete package containing process monitoring software, hardware, and an interface for easy set-up--no coding required.
Contact us to learn more about our industry-leading process monitoring tools for discrete manufacturing.