When it comes to manufacturing automotive components, quality monitoring and traceability are of the utmost importance. OEMs and suppliers need to be able to demonstrate to customers that the sub-assemblies and components they have delivered were built correctly, according to their specifications.
Having the right tools allows you to maximize traceability in automotive parts manufacturing and increase production output, including First Time Yield (FTY), First Time Through (FTT), and Jobs Per Hour (JPH). Sciemetric puts this power in your hands, across your enterprise, with the combination of our in-process test solutions, plus QualityWorX, an organized database with quick data reporting tools.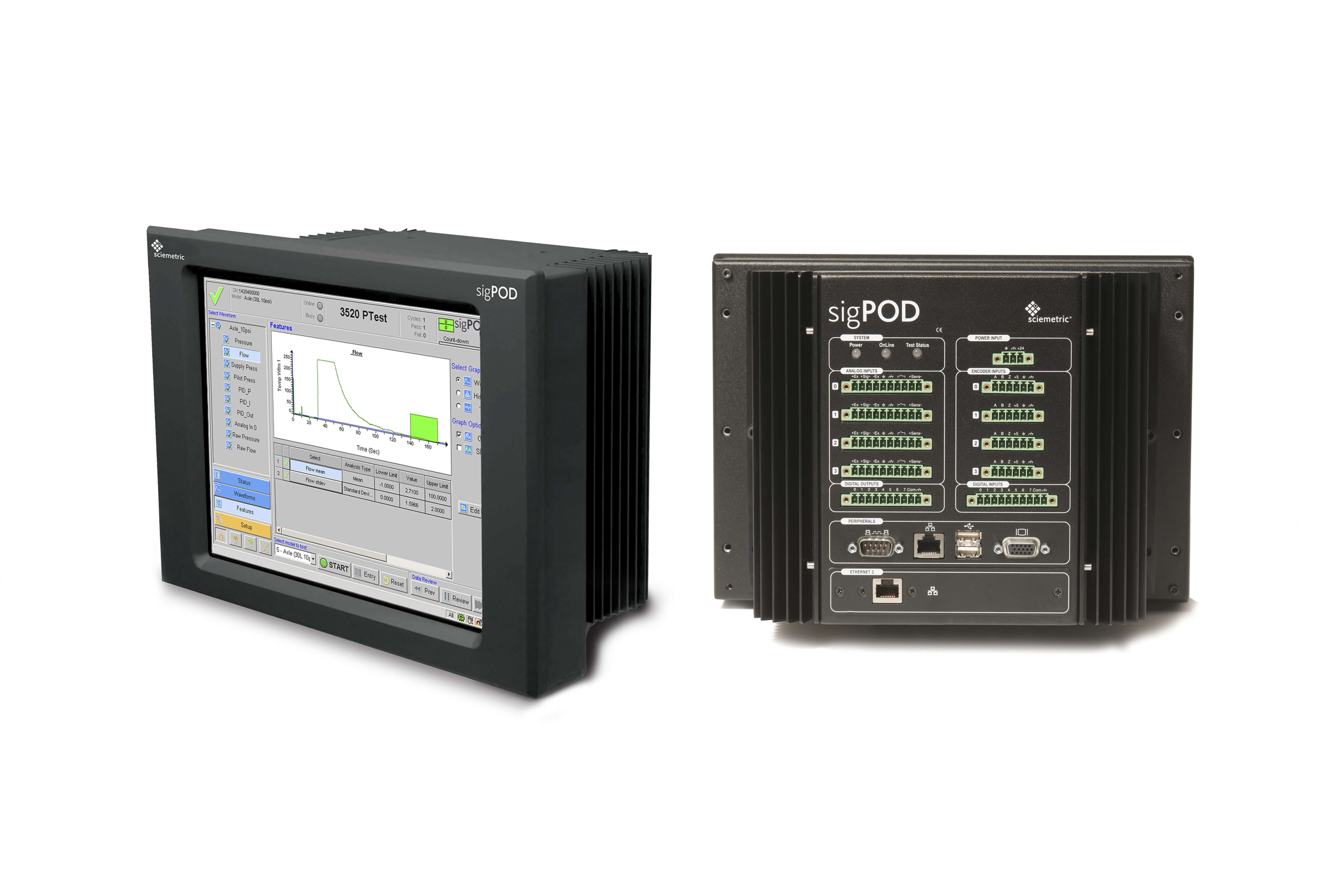 Process monitoring for automotive manufacturing 
Effective quality control helps prevent expensive recalls by identifying defects before parts reach the consumer.  Sciemetric delivers process monitoring of every integral in-process test through our sigPOD. The sigPOD delivers real-time pass-fail feedback and advanced defect detection capabilities to catch quality issues fast using signature analysis.   
Using digital process signature analysis improves automotive parts manufacturing traceability by analyzing and collecting more data points than conventional testing systems. The sigPOD can be deployed alongside automotive component testing equipment across the production line to monitor virtually any automotive parts testing process or manufacturing operation, including crimp, dispense, force-distance monitoring, torque, noise and vibration, gauge and profile, weld, and more. 
Data collection & analysis enables manufacturing traceability
Automotive component manufacturers are expected to have a traceability system for manufacturing in place. Their customers demand verification that the products they buy meet their specifications and compliance standards.  
Sciemetric's QualityWorX data intelligence software provides data collection and analysis across every production line in your enterprise. These tools enable complete traceability throughout the automotive component manufacturing process, and the tools to create reports that show that each specific component within a part meets the required specifications.
In the event of a product quality concern, like a warranty claim or recall, these data management and analysis tools give you the ability to revisit your process data for a specific component and trace root cause to identify if the problem originated in your process. If you find the problem did originate in your plant, you can identify what that problem was, which other specific components were affected (by part number), and how to prevent it in the future.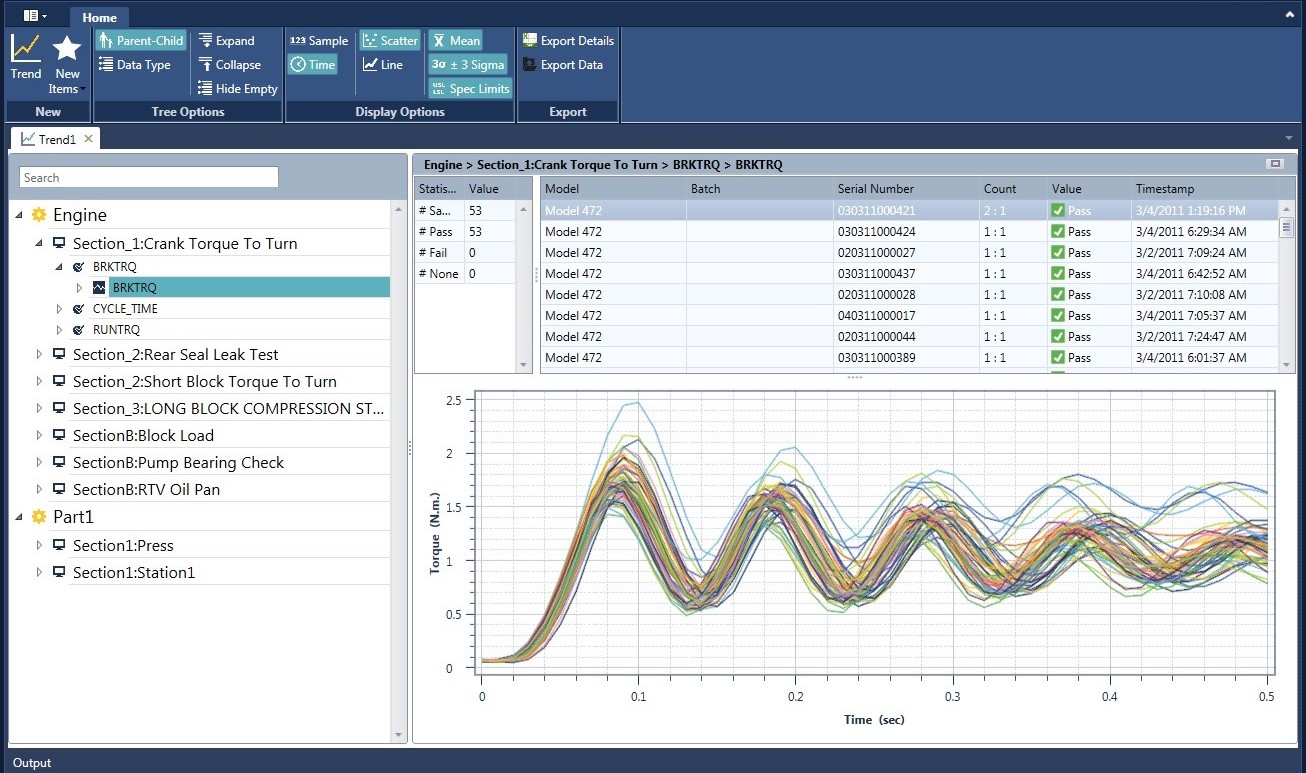 ---
Automotive component testing
Automotive components quality assurance testing can only be reliable and effective if you have the right tools in place. For decades, Sciemetric has been helping OEMs and automotive component suppliers monitor and maintain product quality and achieve traceability on the production line. We have experience in all varieties of manufacturing tests and applications for automotive components, ensuring product quality for the end-consumer.
Below, we dig deeper into some of these applications, providing examples of how we have helped manufacturers solve their automotive component manufacturing problems and reach their FTY, FTT, and JPH goals.
Braking systems 
With automotive brake defects having been the focus of some very public recalls, it's more important than ever for brake manufacturers to manage the quality of their products.
Sciemetric's sigPOD in-process test and monitoring technology provides the most accurate line-wide process monitoring and part testing for braking systems, including:
Brake pad press monitoring
Brake pad resonance testing 
Fuel systems 
Fuel systems are complex builds and their verification requires many tests performed either at once or in a short sequence, which our technology is uniquely capable of doing. Sciemetric's automotive testing solutions also include complete traceability of each component part by serial number and industry-leading accuracy, using process signatures for analysis.
Sciemetric has delivered many automotive parts quality control solutions for testing of fuel system testing, including:
Fuel rail and injectors: Leak test and verification 
Fuel valve leak test 
Leak testing of the assembly
HVAC, compressor & blower motors
An end-of-line test of HVAC units reduces the number of recalls downstream at vehicle assembly or post-shipment. Some manufacturers rely on PLC or airflow testing to verify quality, but these types of simple measurements miss the defects that become problems later.
Sciemetric's technology enables you to simulate the actual vehicle conditions for controlling each HVAC unit, allowing you to find defects that otherwise would only be caught by end-users. Our automotive parts testing solutions enable you to find problems in the assembly:
Damper issues – Jammed, missed, reversed or twisted dampers
Servo motors – Shorted motors, bad wiring, jammed, high current wiring
Blower motor – Imbalance, shorted, bad wiring, bearing damage 
Gaskets – Missing, damaged plastic
Harness and cabling – Shorted, reversed connections, bad wiring
Missing bearing test 
Airflow blockages
Air conditioning compressor verification (torque-to-turn)
Detect compressor noise and vibration (e.g. whine and slap)
Air conditioning solenoid assembly verification
Steering & suspension systems
Use Sciemetric technology to detect steering system defects during manufacturing and ship only quality steering components and systems. Our in-process automotive component testing approach verifies quality at every critical manufacturing operation throughout assembly so you can find and address problems as soon as they occur.
Sciemetric has delivered many solutions for automotive component manufacturing test applications, including:
Verification of steering component assembly
Noise, Vibration and Harshness (NVH) detection
We also provide complete traceability along the production line so that you can prove all steering systems meet specification and easily create yield and quality reports. Our data management tools give you the visibility you need to either identify the root cause of a quality issue or improve processes to meet objectives. 
Other automotive components 
During our decades of working with automotive manufacturers, we have provided countless solutions—more applications than we can list here. If you need help manufacturing an exhaust system, solenoid, electric motor or other sub-assembly, we can do it. Our technology is flexible and configurable to virtually any automotive parts quality control test on your line.
Sciemetric has developed a collection of Application Notes that dive deeper into how we have helped our customers solve problems in a wide variety of manufacturing tests for automotive components on the production line.