When it comes to manufacturing automotive components, quality monitoring and traceability are of the utmost importance. Sciemetric has decades of experience helping OEMs and Tier 1 and Tier 2 suppliers across the automotive sector ensure quality products are leaving their line, and demonstrate to customers that the sub-assemblies and components they have delivered were built correctly, according to their specifications.
Having the right tools allows you to continuously optimize product quality, reduce scrap and waste, increase production output, including First Time Yield (FTY), and achieve part production traceability. Sciemetric puts this power in your hands, across your enterprise, with the combination of our in-process test and monitoring test solutions and QualityWorX manufacturing data management and analytics solutions.
---
Powerful solutions for automotive components manufacturing 
Sciemetric combines process monitoring and data analytics and reporting solutions that work together to help you improve and maintain production quality and efficiency. These solutions can be applied to one station causing you problems, or across various stations on your line. Learn more about how these solutions work together, below. 
How we help you deliver quality automotive components
Monitor for Defects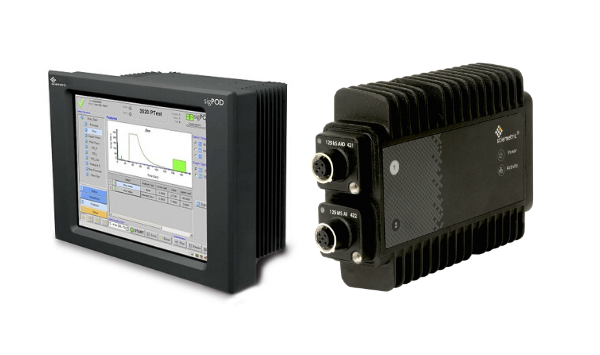 Our flexible in-process test (IPT) and monitoring systems can be implemented right at the station, providing intelligent and accurate real-time defect detection for virtually all manufacturing assembly operations: press-fit, insertion, crimping, noise and vibration, welding, fluid dispense, leak test and more.
Use Process Data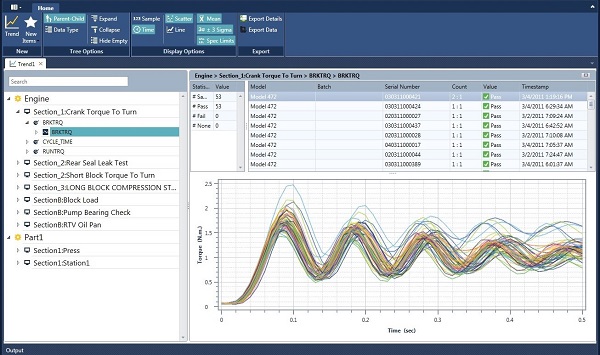 Collect and store data from tests and other stations for continuous analysis, reporting and part traceability. Sciemetric offers unique digital signature analytics to visualize data and make it faster to respond to issues and easier to identify enhancements to deliver better quality, more efficiently. 
---
Solutions for all of your automotive component testing applications
Automotive components quality assurance testing can only be reliable and effective if you have the right tools in place. For decades, Sciemetric has been helping OEMs and automotive component suppliers monitor and maintain product quality and achieve traceability on the production line. We have experience in all varieties of manufacturing tests and applications for automotive components, ensuring product quality for the end-consumer.
Below, we dig deeper into some of these applications, providing examples of how we have helped manufacturers solve their automotive component manufacturing problems and reach their FTY goals.
Braking systems 
With automotive brake defects having been the focus of some very public recalls, it's more important than ever for brake manufacturers to manage the quality of their products.
Sciemetric's sigPOD in-process test and monitoring technology provides the most accurate line-wide process monitoring and part testing for braking systems, including:
Brake pad press monitoring
Brake pad resonance testing 
Fuel systems 
Fuel systems are complex builds and their verification requires many tests performed either at once or in a short sequence, which our technology is uniquely capable of doing. Sciemetric's automotive testing solutions also include complete traceability of each component part by serial number and industry-leading accuracy, using process signatures for analysis.
Sciemetric has delivered many automotive parts quality control solutions for testing of fuel system testing, including:
Fuel rail and injectors: Leak test and verification 
Fuel valve leak test 
Leak testing of the assembly
HVAC, compressor & blower motors
An end-of-line test of HVAC units reduces the number of recalls downstream at vehicle assembly or post-shipment. Some manufacturers rely on PLC or airflow testing to verify quality, but these types of simple measurements miss the defects that become problems later.
Sciemetric's technology enables you to simulate the actual vehicle conditions for controlling each HVAC unit, allowing you to find defects that otherwise would only be caught by end-users. Our automotive parts testing solutions enable you to find problems in the assembly:
Damper issues – Jammed, missed, reversed or twisted dampers
Servo motors – Shorted motors, bad wiring, jammed, high current wiring
Blower motor – Imbalance, shorted, bad wiring, bearing damage 
Gaskets – Missing, damaged plastic
Harness and cabling – Shorted, reversed connections, bad wiring
Missing bearing test 
Airflow blockages
Air conditioning compressor verification (torque-to-turn)
Detect compressor noise and vibration (e.g. whine and slap)
Air conditioning solenoid assembly verification
Steering & suspension systems
Use Sciemetric technology to detect steering system defects during manufacturing and ship only quality steering components and systems. Our in-process automotive component testing approach verifies quality at every critical manufacturing operation throughout assembly so you can find and address problems as soon as they occur.
Sciemetric has delivered many solutions for automotive component manufacturing test applications, including:
Verification of steering component assembly
Noise, Vibration and Harshness (NVH) detection
We also provide complete traceability along the production line so that you can prove all steering systems meet specification and easily create yield and quality reports. Our data management tools give you the visibility you need to either identify the root cause of a quality issue or improve processes to meet objectives. 
Motorized assemblies
Smooth and quiet operation is expected for the many motorized assemblies in today's vehicles. Typical quality checks on motorized components include current and power, torque, and noise and vibration. Sciemetric test systems find defects caused by improper assembly, debris in the component, nicked gears, poor torque and more for motorized assemblies such as:
Seat track motor
Starter motor 
Wiper motor
Blower motors in HVAC
Sunroof / moon roof
Power windows
Other automotive components 
During our decades of working with automotive manufacturers, we have provided countless solutions—more applications than we can list here. If you need help manufacturing an exhaust system, solenoid, electric motor or other sub-assembly, we can do it. Our technology is flexible and configurable to virtually any automotive parts quality control test on your line.
Sciemetric has developed a collection of Application Notes that dive deeper into how we have helped our customers solve problems in a wide variety of manufacturing tests for automotive components on the production line.
---
Scalable solutions for automotive component manufacturers
Sciemetric has decades of experience helping automotive component manufacturers improve product quality, while increasing first-time yield, cutting costs and improving overall production efficiency. Whether it's one troublesome station on your line, or a problematic assembly that spans across your line, applying scalable process monitoring and data analysis tools to your line can lead to substantial improvements in quality and efficiency—and huge savings to your bottom line.
Contact us to talk to one of our application experts about improving production in your automotive component plant.