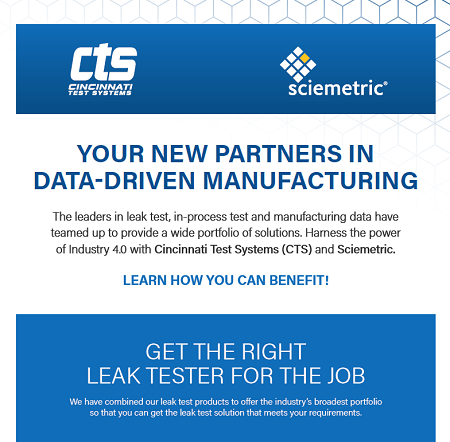 Benefit from the most comprehensive leak test product lineup in the industry
Sciemetric's partnership with Cincinnati Test Systems (CTS) means that customers gain access to products and support across the industry's most comprehensive leak test product lineup—including advanced data and analytics capabilities. This partnership offers you the most innovative leak test technology and industry-leading accuracy and reliability, making it the ultimate defect detection and productivity solution for leak test on manufacturing production and assembly lines.
We offer leak testers for small and large volume applications, applying pressure decay, mass flow, vacuum and more. You can rely on the CTS and Sciemetric portfolio of products to catch even the smallest leaks in any part or product where seal integrity is critical.
We have combined our leak test products to offer the industry's broadest portfolio so that you always get the leak test solution that does exactly what you need it to do.
Our diverse portfolio offers solutions for every test on your line. With our combined in-depth knowledge of leak testing for a variety of applications and large to small leaks, as well as our thorough expertise in in-process testing, our team is equipped with the knowledge and products to test and monitor virtually any manufacturing process on your production line.
Leak Testing
Sound & Vibration Analysis (NVH)
Torque Monitoring
Weld Monitoring
Process Monitoring
Functional Testing
Press-Fit Monitoring
With over 110+ combined years in business, no one has walked more lines than our combined team. We have worked on over 30,000+ systems worldwide, solving quality and productivity problems for thousands of manufacturers across the globe. Equipped with some of the best engineering talent in the market, our dedicated team of support and applications staff is here to serve you.
Experience across a variety of industries:
Automotive
Off-highway
Oil and gas
Medical devices
Consumer products
Energy
At Sciemetric and Cincinnati Test Systems (CTS), we work to provide you with solutions that solve your problems and help you meet your quality and productivity goals. We know that you need to meet your cycle time and throughput targets, while accurately and reliably testing each part of each component on your line. We also know that you need the ability to trace root cause and access detailed birth histories for each part and assembly on the line. All the while, staying on budget.
We understand the demands and pain points of the production line and no matter your problem, we've got a solution to meet your needs.
With our combined team, Sciemetric and Cincinnati Test Systems (CTS) have you covered across the globe better than ever before. We offer sales and service in the following regions, as well as extended coverage wherever you need it.
USA (Rochester Hills, MI; Harrison, OH)
Canada (Ottawa, ON; Windsor, ON)
Mexico
South America
Caribbean
UK
Europe
India
China
Korea
Australia
Solutions for every leak test on your production line
The diverse portfolio offered by Sciemetric and Cincinnati Test Systems (CTS) provides leading testing, monitoring and data analytics solutions for every leak test on your line. We offer pressure decay leak testing and vacuum decay leak testing, including pressure drop measurement and calibrated leak rate measurement. We offer flow testing, including leak testing, blockage testing, burst testing and functional flow measurement. We also offer tracer gas testing for helium (evacuate and fill test), hydrogen, and other gases, as well as tracer gas testing for hard vacuum, accumulation and atmospheric at point of leak (sniffing and purged containment).

---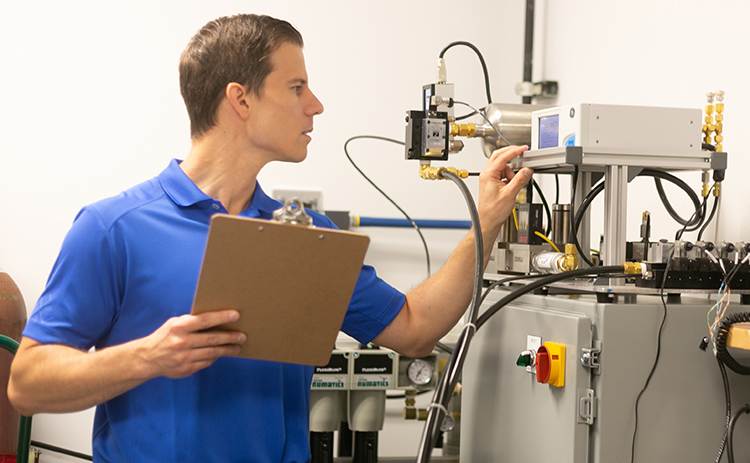 Improve your leak test: Proven results
Our leak test customers have experienced many benefits, including: