Application Note: The True Cost of Medical Packaging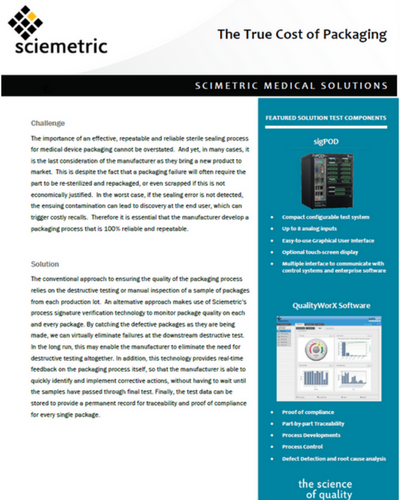 In medical device packaging it is extremely important to have a reliable sterile sealing process, however in many cases it is the last piece of the puzzle before going to market with a product. When a proper seal packaging process is not practiced, it quite often leads to returns and having to re-package the product or dispose of it all together while additional unnecessary costs are incurred.
To eliminate destructive tests and save on product costs, Sciemetric's process signature verification technology monitors packages as they are being made, virtually getting rid of future failures, providing real-time automated feedback so the problem can be fixed right away, while all test data is stored in our QualityWorX trend analysis software for complete traceability, 100% repeatability and proof of compliance. Read the Application Note to learn more.