Application Note | Weld for Medical Device Manufacturing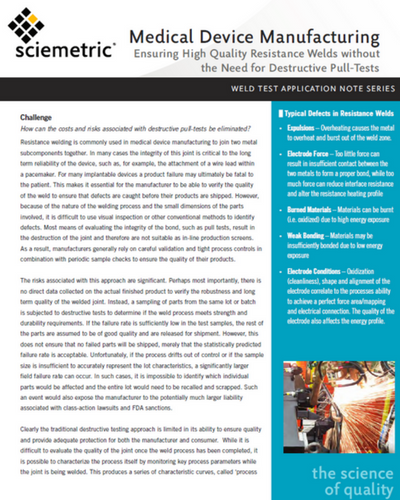 Resistance welding in medical device manufacturing has always been a challenge to successfully test and to collect data, particularly for small implantable devices. Currently destructive pull-tests are used to test the integrity of the welded joint, which is inaccurate and leads to unnecessary waste.
A medical manufacturer installed Sciemetric's sigPOD process signature verification monitoring solution to measure, analyze, and record critical process variables on their resistance weld station. The solution also allowed them to have complete traceability and comprehensive test records for every part shipped. The manufacturer saw a dramatic increase in defects found, improved yield and reduced costs.
Read the Application Note to learn more.