Sciemetric's Integrated Systems Division (ISD) Brochure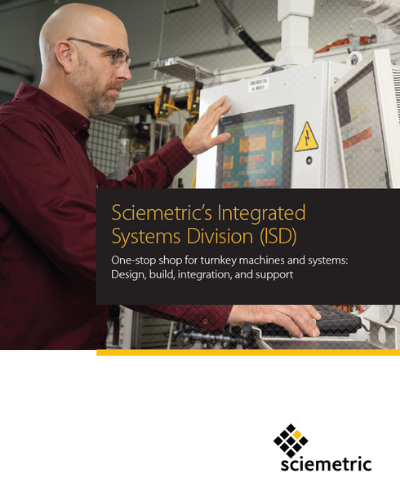 Sciemetric has 40 years' experience solving manufacturers' challenges and improving their processes. It's what guides our approach in all that we do. Sciemetric's ISD (Integrated Systems Division) functions as an extension of our products, making the process of improvements on the manufacturing line as easy and efficient as possible for our customers.
We work with manufacturers across the globe, with local support located across USA, Canada, Mexico, India, China, UK, and Europe. With our main ISD design lab and integration assembly and runoff area headquartered in Rochester Hills, Michigan, USA, our teams work together to deliver quality builds and systems and support locally across the globe. Working with Sciemetric technology, or any technology, our ISD group will collaborate with your team to identify your needs and bring the project to life.
Download the brochure to learn more about the capabilities of Sciemetric's Integrated Systems Division (ISD).