sigPOD Press Datasheet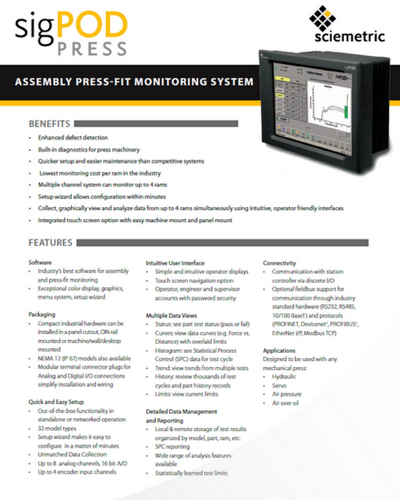 sigPOD Press is designed to monitor assembly press operations and provide real-time analysis of the data to identify defective parts, faulty press machinery, and out of control assembly processes. It measures force vs. time or force vs. distance signatures for each part cycle, and then analyzes the curve(s) in milliseconds to provide an instant pass/fail output for each press ram.
Compatible with almost all load cell and distance sensors, sigPOD Press is available in single ram or multiple ram configurations, and can be networked together to provide higher level insight into assembly processes by collecting data across the entire assembly line. The standard sigPOD Press can support traditional hydraulic ram press systems, servo motor based presses, air pressure or air-over-oil systems, crimping machines, and almost any other mechanical operation that exhibits a force-distance signature.
sigPOD Press provides extensive hardware and software functions for part test, analysis and data connectivity.