Contributed by: Sciemetric Staff
Sciemetric's new partnership with Cincinnati Test Systems (CTS) marks the introduction of the industry's most comprehensive leak test portfolio. Manufacturers worldwide now have access to the combined products and expertise of Sciemetric, CTS and CTS-Schreiner for leak test and other in-process test solutions for the manufacturing line through one cohesive sales and support team.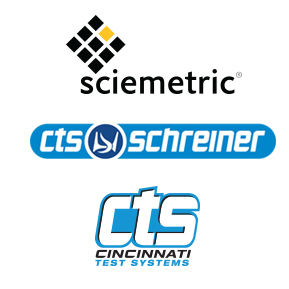 A solution for every leak test
Large volume and small volume, complex and simple requirements—you'll find a leak test product to meet your needs in the new combined portfolio of leak test instruments.
CTS' market leadership and solutions for pressure and vacuum decay leak testing, flow testing, tracer gas leak testing and more, combined with Sciemetric's specialty in speed, accuracy and production insight, outshine the competition.
The combined portfolio offers a one-stop shop for your manufacturing line, enabling accuracy, repeatability, traceability and continuous innovation in all areas.
Proven expertise
With over 100 years of combined experience, no team has walked more manufacturing lines than we have. We have created hundreds of custom applications and installed thousands of systems worldwide. Our engineering and application teams have worked on more sets of requirements and solved more quality and productivity problems than anyone else in the market—and we have results to prove it.
Our teams have helped manufacturers across the globe improve product quality and first time yield, cut production cycle time, streamline the production line, reduce production costs, improve manufacturing traceability and more.
With experience in a wide range of industries including automotive and off-highway, oil and gas, medical devices, consumer products, energy and the general industrial market, we can provide you with the right solution for your needs, no matter the application.
Global support
One of the many benefits of the Sciemetric and CTS partnership is that our customers gain access to an even more extensive sales and support team across the globe. With over 30,000+ systems installed worldwide, Sciemetric and CTS are dedicated to customer support and continued satisfaction.
Sciemetric and CTS have global sales and support representatives in Canada, the United States, Mexico, the United Kingdom (UK), Europe, Asia, India and Australia. Languages served include English, Spanish, Portuguese, Chinese, Korean and German.
Leak test improved, with manufacturing data
Sciemetric's customers are already reaping the benefits of our solutions that provide practical, easy-to-understand data insights gleaned from manufacturing processes. Soon, Sciemetric's data collection and analytics solutions will be made available for a selection of CTS' leading leak test products, providing data-driven insight that enables manufacturers to boost productivity, yield and product quality.
Together, we are specialists in modern manufacturing, with the technology, experience and products to serve every station on your assembly line.