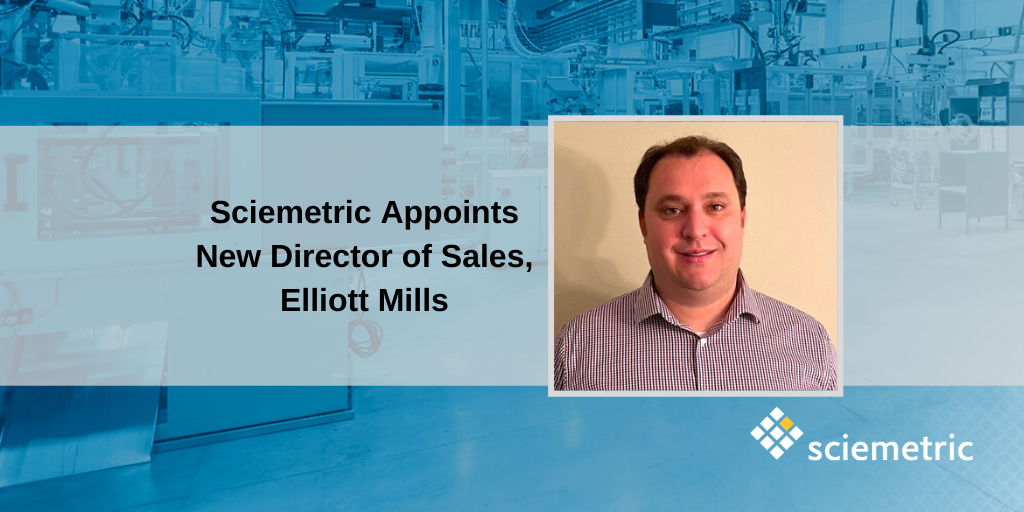 Rochester Hills, Michigan – Sciemetric is pleased to welcome our newly appointed Director of Sales, Elliott Mills. Elliott brings to the role vast experience in manufacturing and ensuring product quality.
Elliott has worked on manufacturing lines for over 20 years, with experience as a manufacturing and applications engineer on the line, product management, sales management, and more. He has worked across various industries, including automotive, aerospace, medical, and general manufacturing, working with global companies and teams across North America, Europe, India, and Asia.
"Having been on the manufacturing floor myself for so many years, I know the challenges our customers are facing. I've had firsthand experience trying to use production data to solve a problem and I understand the pain points and where our customers will see real value," said Elliott Mills, Director of Sales, Sciemetric. "Together with the team at Sciemetric, it is my goal to help you solve your challenges with practical, effective solutions. I look forward to helping our customers achieve their goals and driving manufacturing quality and efficiency."
Elliott's breadth of hands-on experience both on the manufacturing floor and as part of management teams gives him the unique ability to be able to investigate manufacturers' problems and present the most practical and useful solutions that will deliver for your teams at every level of the enterprise. Elliott will be based out of Sciemetric's Rochester Hills office, working with our customers around the globe.
"We are excited to have Elliott join our team. He really believes in ensuring customer success and he will be a great addition as our team works together to bring Sciemetric to new customers and markets around the globe," said Shankar Krishnamurthy, General Manager, Sciemetric.
Interested in discussing a new project? You can contact Elliott Mills directly at emills@sciemetric.com.
About Sciemetric
Sciemetric's industry-leading data management and analytics capabilities empower our clients to start using their data today for greater process visibility and control and faster issue resolution. We deliver Industry 4.0 tools for a variety of industrial operations and manufacturing processes. Our expertise and reputation was built over decades working with manufacturers world-wide to solve their biggest productivity and quality issues, and optimize their production lines quickly, through in-process monitoring/testing and practical data analysis. Sciemetric is part of the TASI Group's Product Integrity organization, with sales and support offices in Canada, the U.S., the U.K., India, and China.