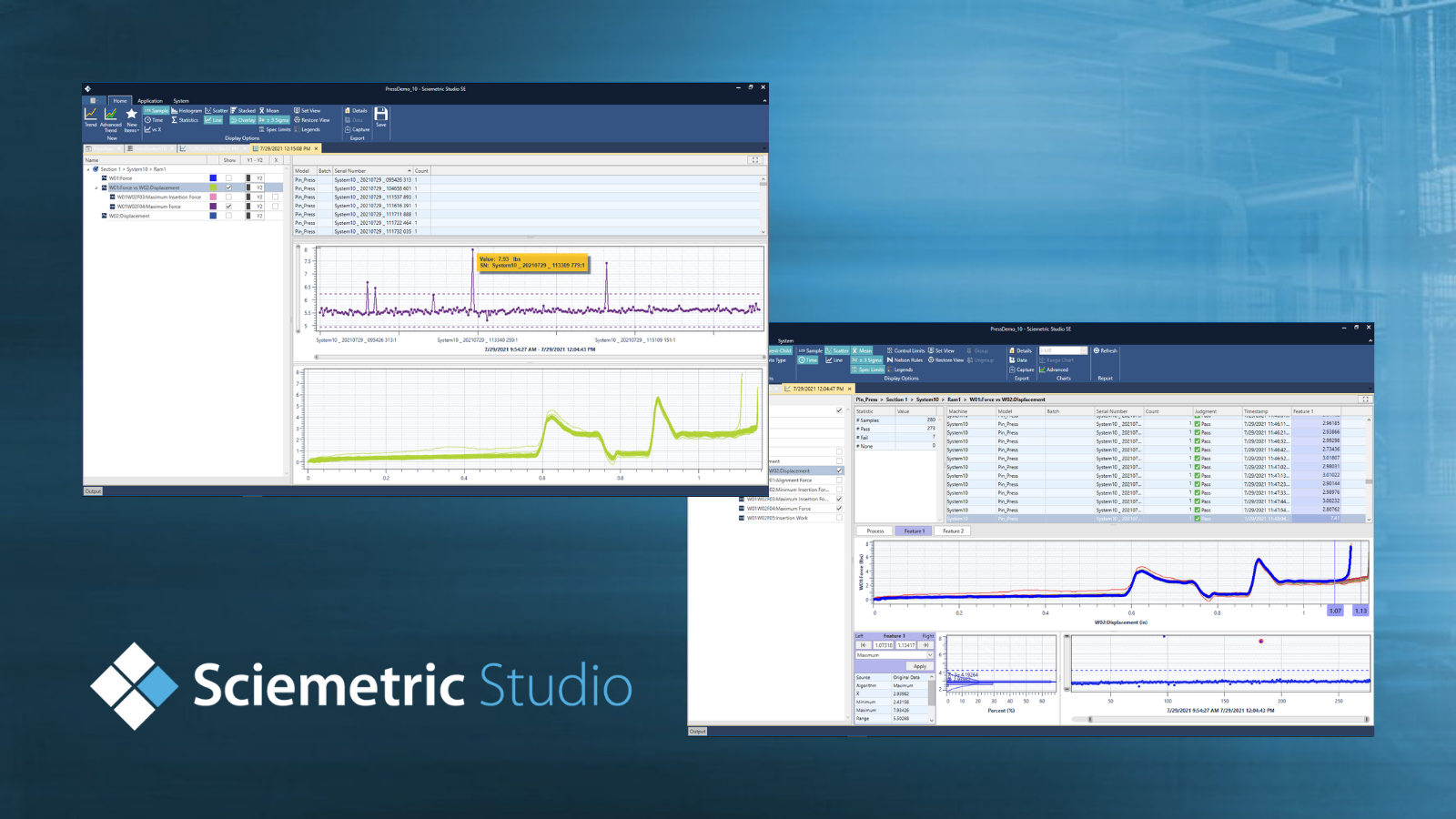 Visualize production data, compare stations, validate new feature checks, spot hidden defects faster with the latest release of Sciemetric Studio
Ottawa, Canada, August 18, 2021 – Sciemetric Instruments (www.sciemetric.com) – a pioneer of smart manufacturing technologies used by global companies to increase yield, improve quality, and optimize processes – has released Sciemetric Studio 2.1. The latest release features enhanced trending and what-if capabilities.
The new tools allow manufacturers to easily compare data across processes and test stations, and to apply and test different parameters on historical data without affecting live production. 
A convenient, user-friendly interface makes it easy to manipulate, transform, and filter production data in a variety of ways to visualize and more easily distinguish the deviations that indicate a defective part. Once you've pinpointed the problems, these new tools make it easy to identify the best ways to catch these deviations in future production, enabling continuous improvement and product quality on your line. 
The updates to the Advanced Trend function can be used to identify issues in two ways.
First, in a serialized production environment, datasets from different stations on the line can be correlated and compared to trace a downstream failure to its root cause at an upstream station. For example, improperly tightened bolts at a rundown station leading to a failure at a downstream leak test.
Second, datasets from parallel stations performing the same function on the line can be easily compared to tease out indicators of why one station may be having more failures or marginal pass/fails than its twin.
The new Waveform Analyzer function can then be used to test different feature settings for any process or test station on the line, to ensure defective parts no longer slip through as a marginal pass. 
Manufacturers can develop and test new feature checks and analyze the outcome to catch these borderline parts, before making any changes on the live production line. Determine where and how to adjust limits, identify the need for new feature checks, and compare different types of feature analysis to determine the best approach for catching a defect on your line.
"Providing these comparative and what-if analytical capabilities in Sciemetric Studio enables manufacturers to drive even more value from their data, within one suite of software," said David Mannila, Product Manager for Sciemetric. "We will continue to expand Sciemetric Studio with new features that help manufacturers produce the best parts and assemblies possible."
Sciemetric Studio has always enabled quick, in-depth analysis of production data from across the plant floor and the enterprise. The previous release featured the addition of statistical process control (SPC) and real-time alerts. Learn more about Sciemetric Studio. 
REQUEST A DEMO OF SCIEMETRIC STUDIO
About Sciemetric
Sciemetric's industry-leading data management and analytics capabilities empower our clients to start using their data today for greater process visibility and control and faster issue resolution. We deliver Industry 4.0 tools for a variety of industrial operations and manufacturing processes. Our expertise and reputation have been built over decades working with manufacturers world-wide to solve their biggest productivity and quality issues, and optimize their production lines quickly, through in-process monitoring/testing and practical data analysis. Sciemetric is part of the TASI Group's Product Integrity organization, with sales and support offices in Canada, the U.S., the U.K., India, and China.
Media Contact: 
Leo Valiquette 
(613) 769-9479
leo@leovaliquette.com