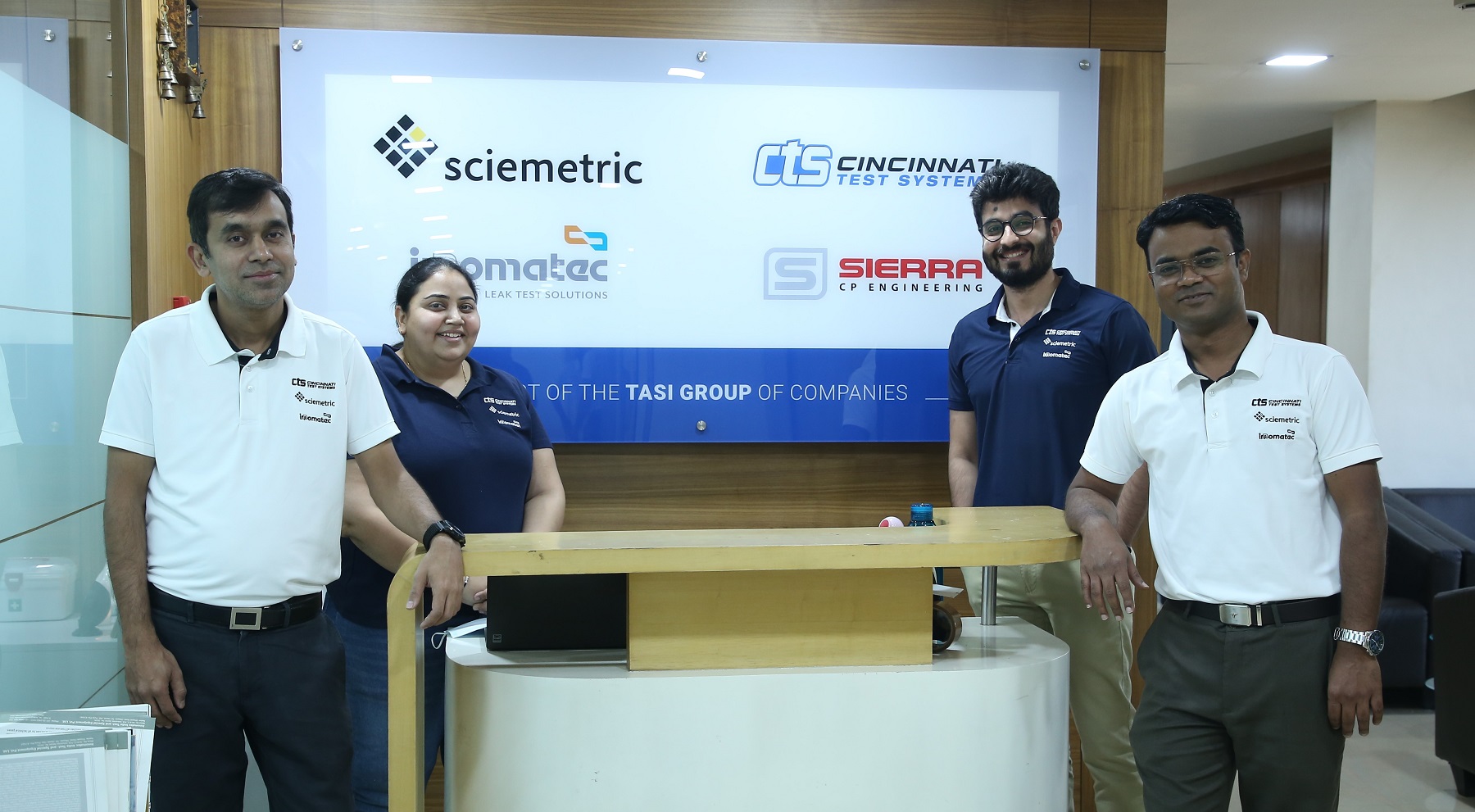 TASI Group Product Integrity doubles size of India operations for 2022
Expanded support and new custom engineering services to better serve nation's manufacturing sector
March 3, 2022 – Pune, India – As demand continues to soar among India's manufacturers, TASI Group Product Integrity is doubling the scale of its local operations for the second time in three years.
Our India HQ in Pune includes sales and support teams for Sciemetric (www.sciemetric.com), Cincinnati Test Systems (www.cincinnati-test.com), and innomatec (www.innomatec.com), as well as other TASI Group companies.
This combined operation serves India's automotive, industrial, and alternative propulsion sectors with world-class process monitoring, in-process test, leak test, data and analytics software, and manufacturing solutions.
The latest additions to India operations will support:
Growth of existing sales, support, and R&D capabilities, with the addition of another floor in our facility 
Fully operational Engineering Center for Excellence for custom machine build and engineering services 
A new leak test and in-process test (IPT) application lab giving us the ability to provide no-charge feasibility testing for esteemed customers in South East Asia
A dedicated facility for manufacturing of connectors and small fixturing
"We've hired more sales and service engineers, with even more to come, in response to the growth of the Indian market," said Shankar Krishnamurthy, General Manager of Sciemetric and VP and GM of Asia Pacific for TASI Product Integrity. "The past two years have been a period of disruption in the industry unlike anything we have ever seen before. But this has only accelerated the need for manufacturers, all over the world, to continue to innovate. It's our privilege to assist them in improving their efficiency without sacrificing product quality."
The TASI Group Product Integrity companies continue to be trusted, go-to providers for Indian manufacturers. Our India operations are located at: 
Sciemetric Technologies India (P) Ltd. 
Office No. 2, Second Floor, Fourhum Center, Renuka Nagar, Lane No. 1,
Urit Nagar, Warje, Pune – 411058
Maharashtra, India (on Mumbai-Pune Highway)
Contact us at inquiries@sciemetric.com to discuss your next project. 
About TASI Group Product Integrity
TASI Group Product Integrity is a global provider of product testing, inspection, and quality solutions for a wide range of manufacturing operations – transportation, general industrial, medical devices, packaging, pharmaceutical, food and beverage, appliances, and consumer products. Product Integrity serves this diverse global customer base with a team of partner businesses that includes Sciemetric, Cincinnati Test Systems, innomatec Leak Test Solutions, and Sierra-CP Engineering. Together, they provide instrumentation, test machines, and engineered systems from 11 locations in North America, Europe, and Asia.