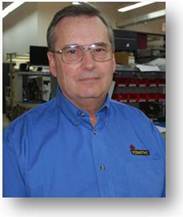 Contributed by: John Perkins - Senior Technical Support Specialist (Retired)
John Perkins is a manufacturing applications expert who has built hundreds of applications to help improve production and part quality. Though John is now retired, we can still answer any questions you may have at inquiries@sciemetric.com.
People with mobility issues that require them to use a wheelchair spend a big part of their day on those wheels. With a motorized chair, noise or vibration can quickly become an irritant and a distraction. 
Manufacturers want to catch these issues before a unit leaves a factory, rather than having to deal with a return and an unhappy customer.
Testing noise and vibration on motorized wheel chairs 
Motorized chairs typically have a left and right drive motor, each coupled to a right-angle gearbox output drive shaft. Even a small nick on a gear can cause a "lumpy" drive, while poor gear finish can generate a variety of objectionable noises during operation. 
We worked with a manufacturer who wanted to develop a method for measuring the noise and vibration produced by the motor assembly, along with a set of criteria to accurately and repeatedly catch unacceptable levels of noise and vibration. In addition, the manufacturer wanted a test system with the flexibility to "learn" what was acceptable.
We adapted a multi-channel sigPOD platform that used a strategically located accelerometer to capture the full waveform, or digital process signature, of the noise and vibration generated by a motor and gearbox during a test cycle.
We then determined acceptable thresholds for noise and vibration and learned what a known defect looks like in the signature data. To establish the subjective acceptable threshold limit values, we tested units returned by users and analyzed the resulting data. This provided a baseline for comparison to ensure that a defect signature could be consistently distinguished from the general population during regular production.
Once we had this process fine-tuned, signature analysis was then replicated at the supplier production line so only good motor gear assemblies would be received by the wheelchair manufacturer.
The result?
Significant cost savings for the wheelchair manufacturer. The motor gear assembly supplier also benefited through continuous improvements to its operations that reduced its exposure to warranty returns.
As you can see in the images below, by using the right combination of instrumentation and signature analysis software, test operators can easily spot unacceptable levels of noise and vibration, and make an accurate pass/fail determination, without the additional cost burden of a traditional sound room.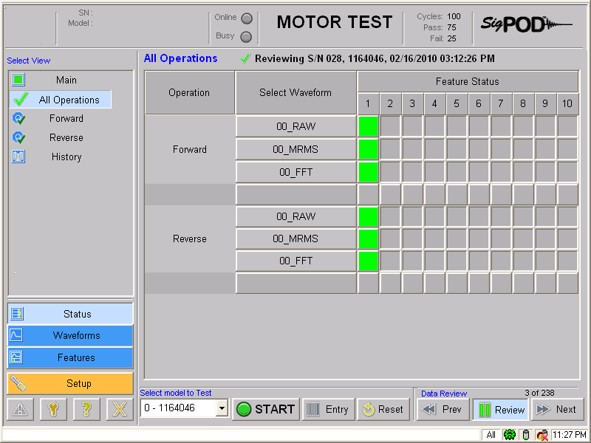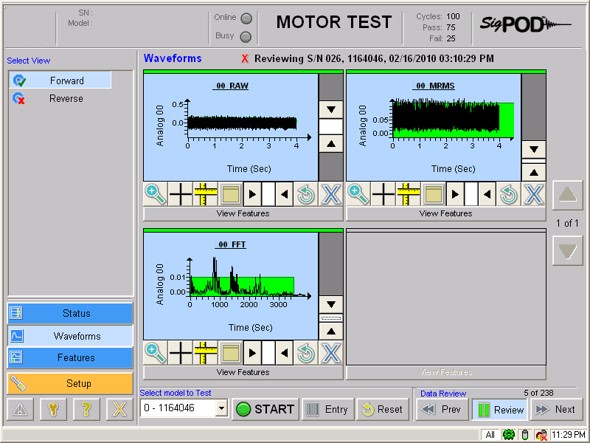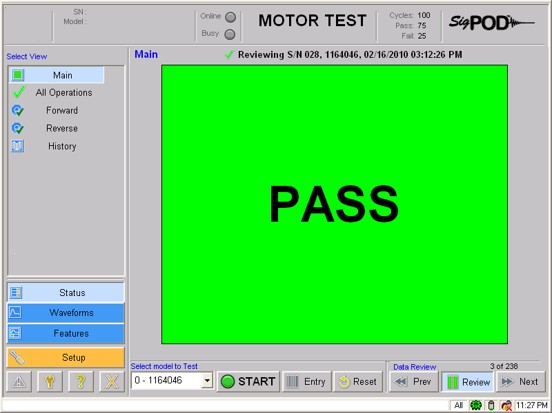 Read NVH Testing Part 1: Transmission woes traced to nicked gears.