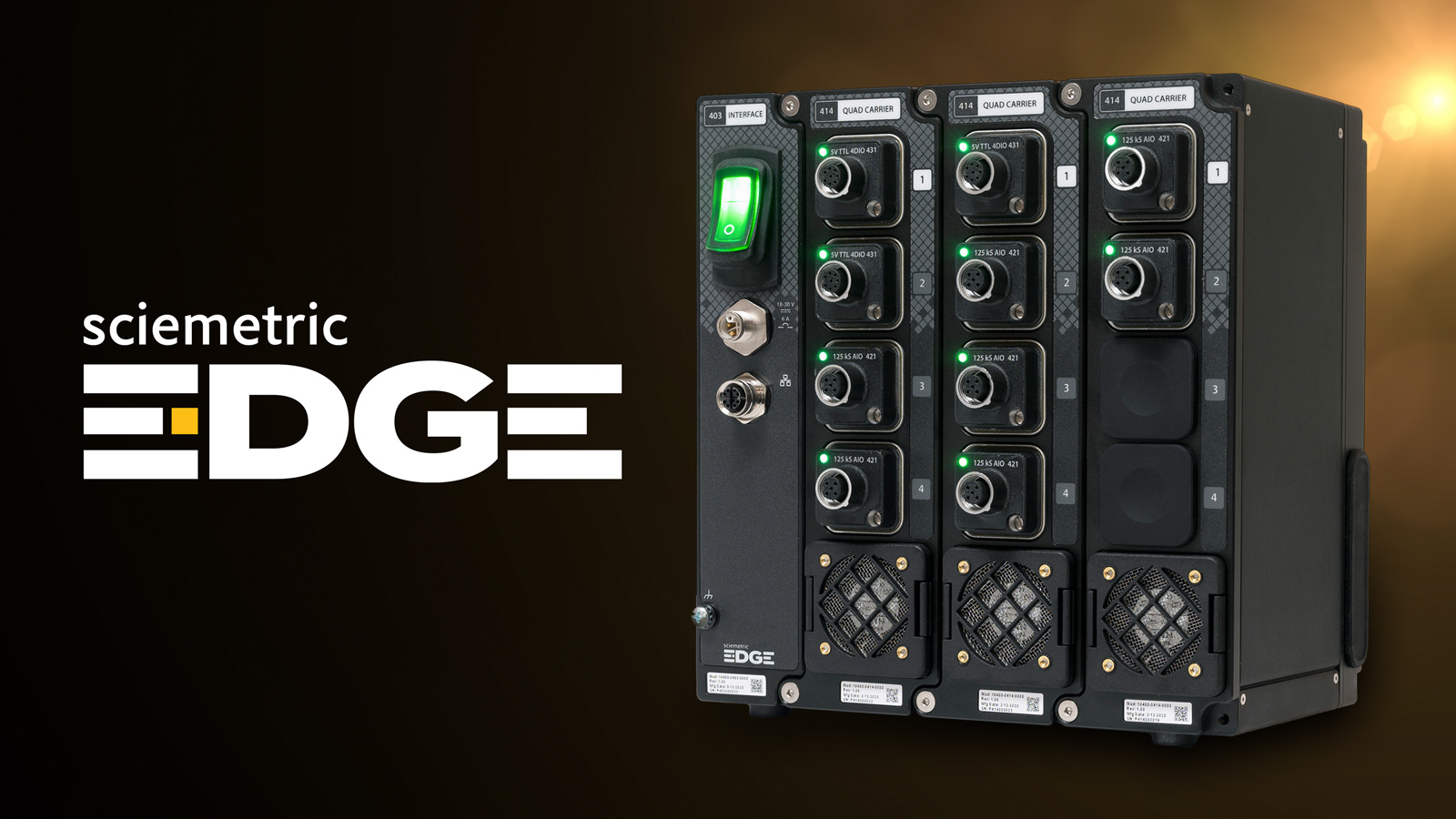 Sciemetric continues to expand its intelligent industrial control platform 
Stack up to 40 channels with the modular scalability of the 414 EDGE Quad Carrier 
Ottawa, Canada, June 29, 2021 – Sciemetric Instruments Inc. – a pioneer of Industry 4.0 smart technologies used by global companies to increase yield, improve quality, and optimize processes – is making it easier for plant operators to add data processing and analysis to any sensor on the network edge.
Sciemetric EDGE is a distributed data analytics system that removes barriers to continuous monitoring and control for a variety of manufacturing and industrial processes. Use digital signal processing and rich data analysis to monitor a process, perform real-time control, and gain the visibility needed to optimize operations. 
This universal platform consists of configurable modules and software designed to work with any sensor. A module can fit in the palm of your hand and contains powerful onboard data processing and analytics capabilities. With Sciemetric Studio software, users can manage discovery, applications, and deployment of the modules. Sciemetric QualityWorX provides data storage and management. All hardware comes with rugged, IP65-rated enclosures, making Sciemetric EDGE ideal for harsh industrial environments.
Today's release of the EDGE 403 Interface and Sciemetric EDGE 414 Quad Carrier enables users to expand multi-channel data acquisition and manage applications with one to 40 channels. Up to 10 Quad Carriers can be stacked in a single chassis, to power and connect up to 40 Sciemetric EDGE modules with one power connection and one network connection. 
"With the EDGE 403 Interface and 414 Quad Carrier, we are enabling our industrial customers to digitize industrial processes and add the intelligence that will drive productivity and cut costs," said Robert Ouellette, Product Manager at Sciemetric. "Sciemetric EDGE continues to evolve as a must-have technology to ensure the performance, reliability, and repeatability of critical manufacturing applications and processes."
Learn more about the latest additions to the Sciemetric EDGE portfolio by downloading the reviewing the latest product documentation.
Learn more about the Sciemetric EDGE > 
About Sciemetric
Sciemetric's industry-leading data management and analytics capabilities empower our clients to start using their data today for greater process visibility and control and faster issue resolution. We deliver Industry 4.0 tools for a variety of industrial operations and manufacturing processes. Our expertise was built over decades working with manufacturers world-wide to solve their biggest productivity and quality issues, and optimize their production lines quickly, through in-process monitoring/testing and practical data analysis. Sciemetric is part of the TASI Group's Product Integrity organization, with sales and support offices in Canada, the U.S., the U.K., India, and China.
Media Contact: 
Leo Valiquette 
(613) 769-9479
leo@leovaliquette.com