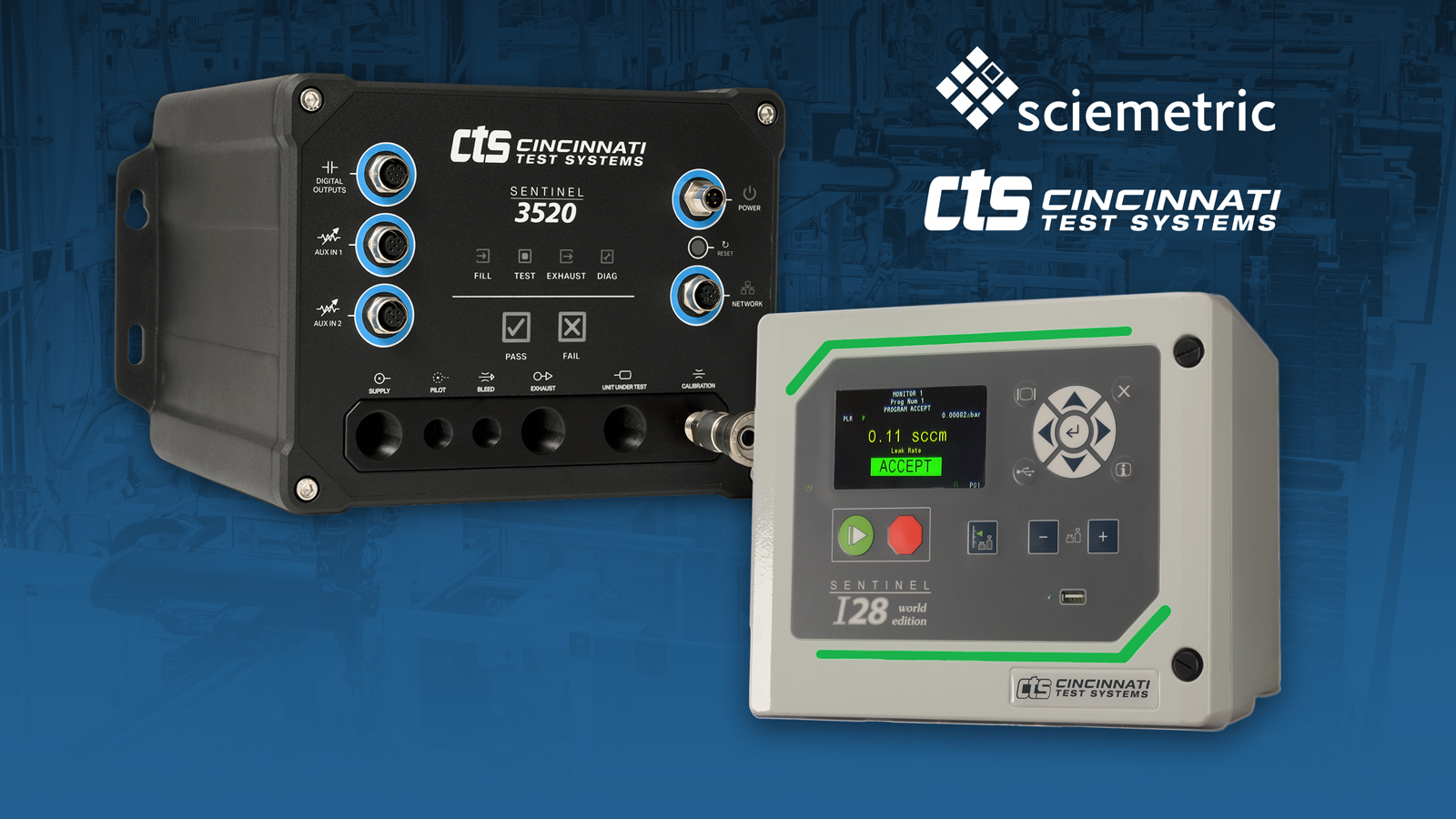 Sciemetric provides local support in the U.K. for Cincinnati Test Systems
Industry-leading leak test instruments, powered by rich data
Ottawa, Canada, June 22, 2021 – Sciemetric Instruments Inc. (www.sciemetric.com) – a pioneer of Industry 4.0 smart technologies used by global companies to increase yield, improve quality, and optimize processes – is now providing sales and service support in the U.K. for Cincinnati Test Systems (CTS) leak test products.
CTS and Sciemetric are two of four companies that form TASI Group's Product Integrity organization. Together, these companies and their channel partners serve the global manufacturing and automation industries with the broadest leak testing, process control, and data management portfolio available today.
Sciemetric already has a presence on the ground in England with its sales, service, and demonstration facility at Infinity Park in Derby. The Sciemetric team will lever its expertise in all aspects of leak testing system development, installation, and optimization for the CTS product line. This will be in addition to the efforts of CTS's existing U.K. distributor, Hanley Technology.
"Together, Sciemetric and CTS have the proven instrumentation and data management platforms to tackle any leak test challenge for U.K. manufacturers," said Shankar Krishnamurthy, General Manager of Sciemetric. "This is coupled with our other Industry 4.0 technologies for in-process testing, front-line defect detection, and distributed process control."
The portfolio includes all CTS Sentinel instruments and leak test products, such as the CTS Connect line of quick connects and seals, and leak test data management solutions. Customers can contact Sciemetric to learn more about the complete offering.
"Customers all over the world continue to rely on CTS for quality products, highly trained engineers, and outstanding service to provide leak and function test solutions for their production challenges," said Mike Tanniru, General Manager at CTS. "With Sciemetric, we deliver an unbeatable combination to equip U.K. manufacturers who have stringent process analytics and data management requirements with capabilities they can trust to support their long-term growth and profitability."
About Sciemetric
Sciemetric's industry-leading data management and analytics capabilities empower our clients to start using their data today for greater process visibility and control and faster issue resolution. We deliver Industry 4.0 tools for a variety of industrial operations and manufacturing processes. Our expertise was built over decades working with manufacturers world-wide to solve their biggest productivity and quality issues, and optimize their production lines quickly, through in-process monitoring/testing and practical data analysis. Sciemetric is part of the TASI Group's Product Integrity organization, with sales and support offices in Canada, the U.S., the U.K., India, and China.
About CTS
Since 1981, Cincinnati Test Systems, Inc. (CTS) has delivered precision leak detection equipment, functional test systems, and assembly verification testing to manufacturers. Its Sentinel, TracerMate and LPC products are used for pressure and vacuum decay leak testing, flow testing and tracer gas testing in the medical device, automotive, consumer products, off-highway, oil and gas, and energy sectors. CTS is part of the TASI Group's Product Integrity organization. In addition to a global network of distributors and representatives, CTS has sales and support offices in the U.S., Europe, India, China, and Korea.

Media Contact:
Leo Valiquette
(613) 769-9479
leo@leovaliquette.com