Sciemetric appoints Product Manager to enable the factory of the future
May 23, 2017 – Ottawa, Canada – Sciemetric Instruments (www.sciemetric.com), a pioneer of Industry 4.0 smart technologies used by many global manufacturers to increase yield, improve quality and optimize manufacturing processes, has named a new Product Manager to drive the definition and development of its next generation of products.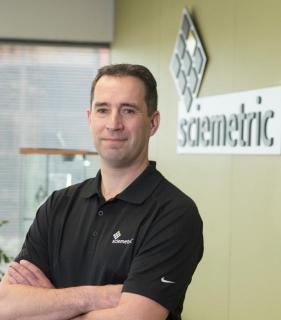 David Mannila has more than 20 years of product development and manufacturing test experience, in management and senior technical roles. He previously served with Sciemetric from 1994 until 2009, where he focused on the sigPOD product line with direct responsibility for creating the company's industry-leading, user-configurable process signature verification (PSV) software. Over the past eight years, he has worked as Principal Product Engineer for new product introduction engineering with medical device maker Abbott Point of Care.
At Abbott, Mannila worked in a manufacturing environment under FDA regulation where he played a key role to bridge the gaps between product development and manufacturing for new products. He would regularly form cross-functional teams to collaborate and overcome differences to meet a common goal.
This experience has prepared him to return to Sciemetric in a more senior Product Manager role, with broader responsibility for new product concept, definition and development, as well as maintaining Sciemetric's overall product roadmap. 
"Sciemetric is a leader in many market segments and a competitive threat in others for larger rivals," Mannila said. "The company has proven itself to be agile, adaptable and innovative over its 36-year history. When the opportunity presented itself to return, it was an easy choice. Sciemetric has some exciting products under development that will help define the factory of the future and the Industrial Internet of Things – I want to be an integral part of its success."
"We are excited to have Dave back on the team," added Nathan Sheaff, President and CEO. "His customer-first attitude, deep domain knowledge and product management skills will help accelerate our agenda to bring new and innovative products to market."
About Sciemetric Instruments
Sciemetric (www.sciemetric.com) is a pioneer of Industry 4.0 smart technologies used by manufacturers to optimize yield, boost quality and reduce costs. The company has worked in measurement and data management for over 30 years. The breadth and depth of Sciemetric's expertise is unique, and the result of walking thousands of manufacturing lines, creating hundreds of applications and installing thousands of systems worldwide. Sciemetric's technology is used around the world to improve manufacturing quality and productivity by companies such as Ford, Hewlett-Packard, Jaguar Land Rover, Caterpillar, Honda, John Deere and Medtronic. Founded in 1981 and headquartered in Ottawa, Sciemetric has sales and support offices in Windsor ON, the U.S., the U.K., India and China.
Media Contact:
Leo Valiquette
(613) 769-9479
leo@leovaliquette.com