25-year company veteran Richard Brine assumes key visionary role
August 16, 2016 – Ottawa, Canada – Sciemetric Instruments (www.sciemetric.com), a pioneer of Industry 4.0 smart technologies used by many global manufacturers to increase yield, improve quality and optimize manufacturing processes, has named Chief Research Engineer Richard Brine as the company's Chief Technology Officer.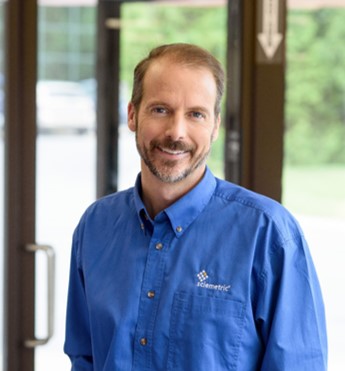 Brine joined Sciemetric after graduating from Queen's University 25 years ago. His expertise and customer commitment has earned him increasing levels of responsibility to drive industry-leading advances across Sciemetric's entire portfolio of tools and applications for in-process testing. For the past 10 years, he has led most aspects of new technology development and commercialization, working hand-in-hand with customers. As CTO, he will be responsible for the total product vision, from concept to deployment and ongoing customer support. 

"Richard is an engineer's engineer who can thoroughly understand a technical problem better than any I've met," said Nathan Sheaff, Sciemetric's Founder and CEO. "But at the same time, he is very passionate about our customers and what they can do with our technology. He has a great understanding of our whole continuum, from measuring microvolts on the manufacturing line to unlocking insight from terabytes of data in the boardroom. It's a magical combination that makes him such a great fit for this job."

For Brine, the CTO position is a crucial one for Sciemetric given the diversity of its product/service mix and the rise of the Industrial Internet of Things, which is unifying both the hardware and software sides of in-process testing and quality assurance on the production line like never before.
"As a company with a strong focus on R&D, Sciemetric has reached the point where it just makes sense to take a more unified approach to how we manage the hardware, software, and customer-facing sides of our business," Brine said. "As CTO, it will be my role to serve as that bridge and work with our fantastic engineering teams to maintain Sciemetric's industry leadership as the state of technology continues to evolve." 


About Sciemetric Instruments
Sciemetric (www.sciemetric.com) is a pioneer of Industry 4.0 smart technologies used by manufacturers to optimize yield, boost quality and reduce costs. The company has worked in measurement and data management for over 30 years. The breadth and depth of Sciemetric's expertise is unique, and the result of walking thousands of manufacturing lines, creating hundreds of applications and installing thousands of systems worldwide. Sciemetric's technology is used around the world to improve manufacturing quality and productivity by companies such as Ford, Hewlett-Packard, Jaguar Land Rover, Caterpillar, Honda, John Deere and Medtronic. Founded in 1981 and headquartered in Ottawa, Sciemetric has sales and support offices in Windsor ON, the U.S., the U.K., India and China.
Media Contact: 
Leo Valiquette 
(613) 769-9479
leo@leovaliquette.com