Sciemetric Further Enhances Engine Cold Test Architecture with Model 248 Piezo Injector Driver Module
Ottawa, Ontario – Sciemetric Instruments, whose technology is used by some of the world's largest automotive manufacturers to improve their quality and manufacturing processes, today announced the release of the new Model 248 Piezo Injector Driver Module for engine Cold Test. This module expands Sciemetric's unique Cold Test technology by providing a smooth, configurable output for direct-injection engine tests that is unmatched in the industry.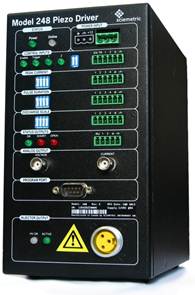 Piezo-based fuel-injectors represent the latest in direct-injection engine technology. The Model 248 provides a cost-effective solution for testing single driver unit Piezo injectors in engines. It is compact, easy to configure and includes integrated analog outputs that simplify the test setup by providing accurate monitoring of its injector outputs. No external pulse generator or high voltage source is required as current pulse profiles are generated internally based on the configuration settings. In addition, the current pulse features smooth transitions to minimize injector voltage spikes, ensuring that the physical opening of the Piezo jet is completely controlled, with no sudden movements that can damage the device. This unique combination of features, performance and flexibility make the Model 248 Driver ideal for lab or production environments and represents the latest in Cold Test direct-injection engine monitoring technology.
"We revolutionized engine cold test in the early nineties to provide a cost-effective and more efficient alternative to hot testing engines," said Nathan Sheaff, CEO of Sciemetric Instruments. "We continue to invest in the development of the best technology for monitoring engine quality across the line and at the cold test stations."
Sciemetric's advanced engine Cold Test architecture eliminates the need for multiple Engine Control Units (ECU) on a cold test line. This saves valuable space and time by allowing engineers to easily reprogram the test for each model of engine. When the Model 248 Driver is connected with Sciemetric's Engine Cold Test system components, it creates a complete multichannel Piezo Injector Driver monitoring system, controlling up to 12 injectors in a single test, minimizing cycle time and increasing test efficiency.
The Model 248 Piezo Injection Driver is now shipping and is successfully in use with one of the world's leading auto industrial engine manufactures.  
About Sciemetric Instruments
Since 1981, Sciemetric's process monitoring and quality management systems and software have enabled some of the world's leading automotive, medical and industrial manufacturers to gain visibility into and control over their manufacturing processes. On the production floor, Process Signature Verification (PSV) technology provides the most accurate determination of process health and part quality while collecting all data. Manufacturing managers use Sciemetric's analytic tools to transform the data into actionable information to reduce costs, manage quality, and maximize yield while providing proof of process compliance and complete line-wide traceability. Visit www.sciemetric.com for more information.